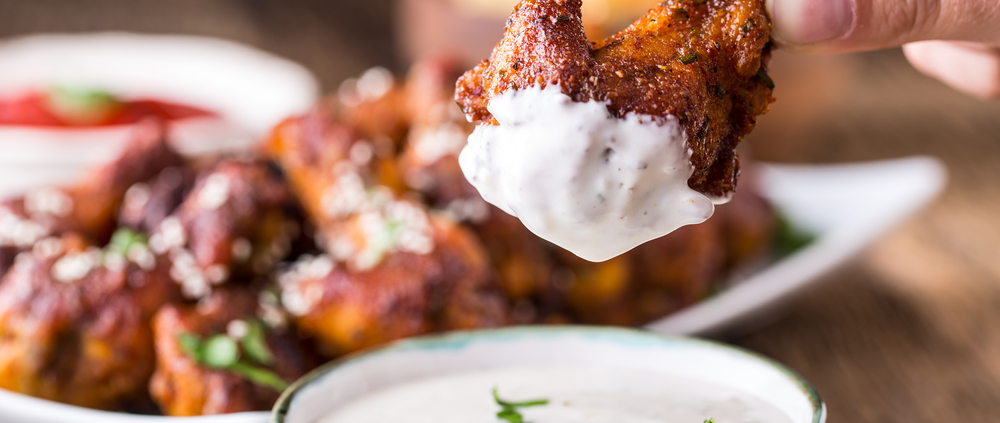 We love wings. And when you find the best wing sauce recipe, you just don't want to stop eating them. But eating wings is a process that can, quite frankly, get out of hand very quickly. When you pick up your first wing you're thinking, I got this, I can just contain the mess to four fingers. Then the wings are slipping and sliding and before long your hands and palms are covered in buffalo sauce. No problem, you think, I have napkins, I just have to contain the mess to my hands. But as you continue to eat, you feel wing sauce slowly building up around your mouth. At first, you try to wipe it off after every bite, but then you talk yourself out of it- Don't want to keep wasting napkins, I'll just wipe my mouth off at the end.
And then, finally, there's the moment you can't come back from. The moment where the mess goes from an easy napkin wipe to a day's worth of fixing. You grab a wing and dunk it heartily into the dipping sauce. You reach toward your face but just as you're about to take a bite… plop. A huge chunk of dipping sauce lands smack-dab in the middle of your shirt. You drop what you're doing and try frantically to wipe it off, but you already know there's no easy fix for that stain.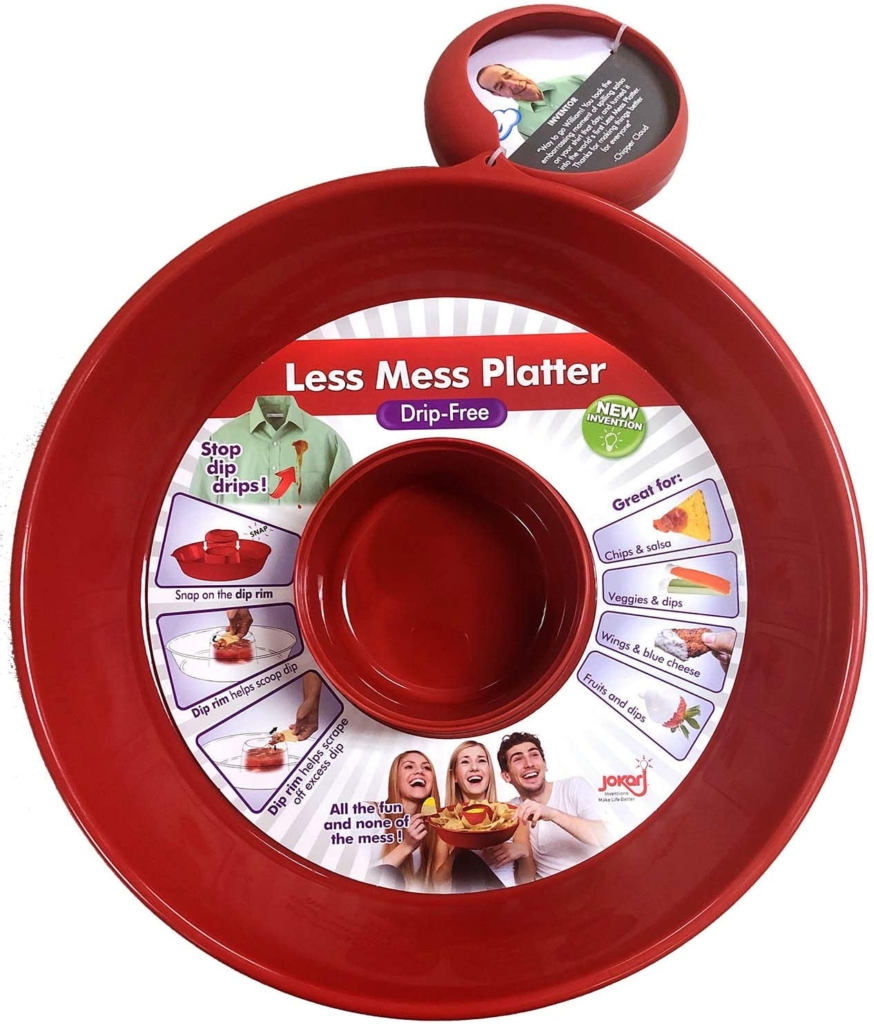 We hate to see tragedies such as this occur so we created an invention that has you covered (literally). Our Jokari Less Mess Platter is designed with a dip rim to help scoop off access dip and prevent dipping sauces from soiling your shirts. To further get the most out of your wing-eating experience, here are some of the best wing sauce recipes to help take your wings to the next level (just not on the Scoville scale).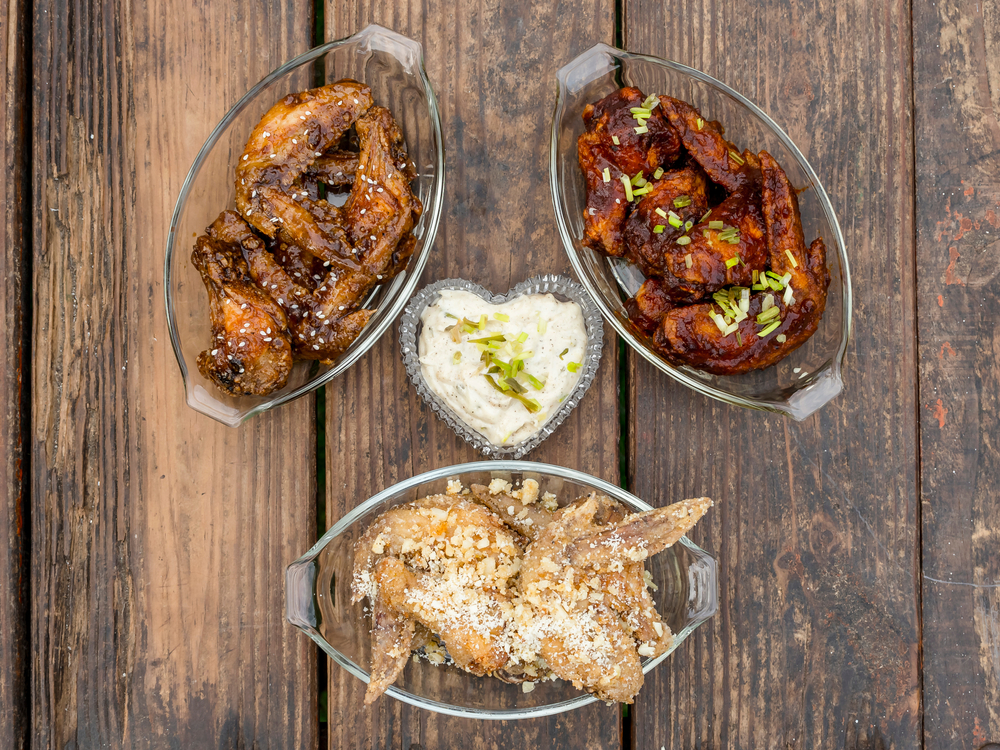 Garlic Parmesan Dipping Sauce
Source: The Mommy Mouse Clubhouse
INGREDIENTS
4 teaspoons Garlic, minced
1 teaspoon Olive Oil
1/2 cup Mayonnaise
1 1/2 teaspoons Sugar
2 tablespoons Parmesan Cheese
1 tablespoon White Vinegar
1 teaspoon Lemon Juice
1/2 teaspoon salt
1/2 teaspoon red pepper flakes
1/4 teaspoon basil
1/4 teaspoon marjoram
1/4 teaspoon thyme
1/8 teaspoon black pepper
INSTRUCTIONS
1) Begin by measuring out the mayonnaise into a mixing bowl.
2) Beat the mayonnaise with a whisk until it is extra creamy before adding any other ingredients.
3) Add all of the other ingredients to the bowl and mix until combined.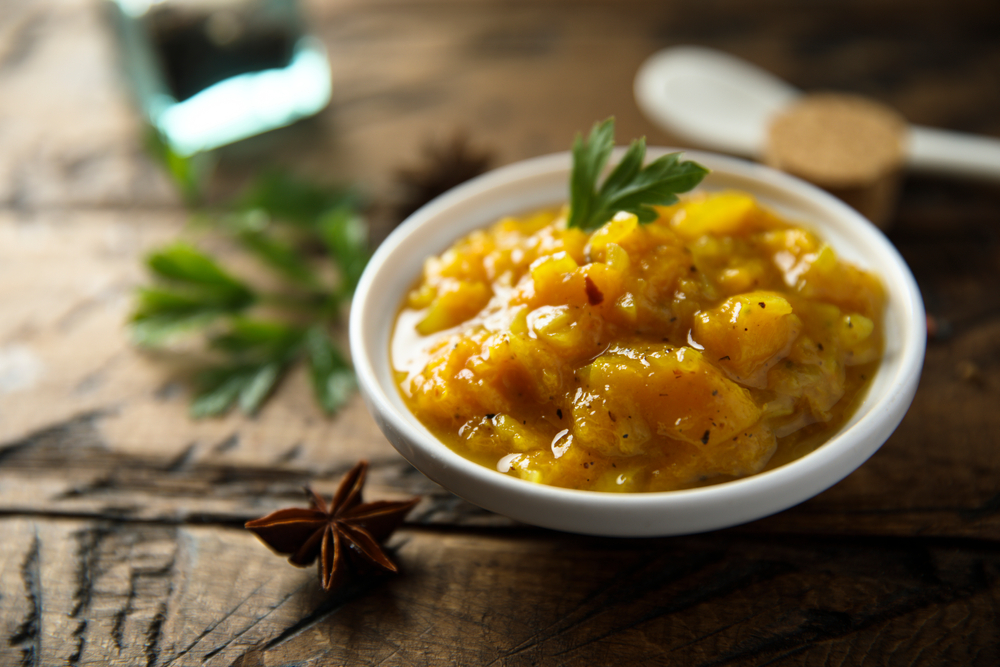 Apricot Chili Jam
Source: Thrillist
INGREDIENTS
2 tablespoons Apricot Jam
1 tablespoon Water
½ teaspoon red chili flakes
INSTRUCTIONS
1) In a small bowl, whisk together three ingredients until the desired consistency is reached. If you aren't able to get apricot jam, it can be substituted for plum, cherry, or peach jam.
PRO TIP: This recipe is especially yummy when paired with spicy buffalo wings.
Creamy Wasabi Dipping Sauce
Source: Food Network
INGREDIENTS
1/2 cup mayonnaise
1/2 cup sour cream
3 tablespoons chopped fresh cilantro
2 tablespoons lime juice
1 tablespoon wasabi paste
Salt and freshly ground black pepper
INSTRUCTIONS
1) Combine the mayonnaise, sour cream, cilantro, lime juice, and wasabi in a small bowl and season with salt and pepper. Keep the sauce in the fridge until ready to serve.
What's the best wing sauce recipe you've ever tried? Leave it in the comments!
https://info.jokari.com/wp-content/uploads/2020/10/Jokari-Wing-Dipping-Sauce-Recipes-4.jpg
667
1000
Lauren Johnson
https://info.jokari.com/wp-content/uploads/2022/05/jokari_logo.webp
Lauren Johnson
2021-02-05 10:00:56
2021-02-03 17:43:23
Best Wing Sauce Recipes