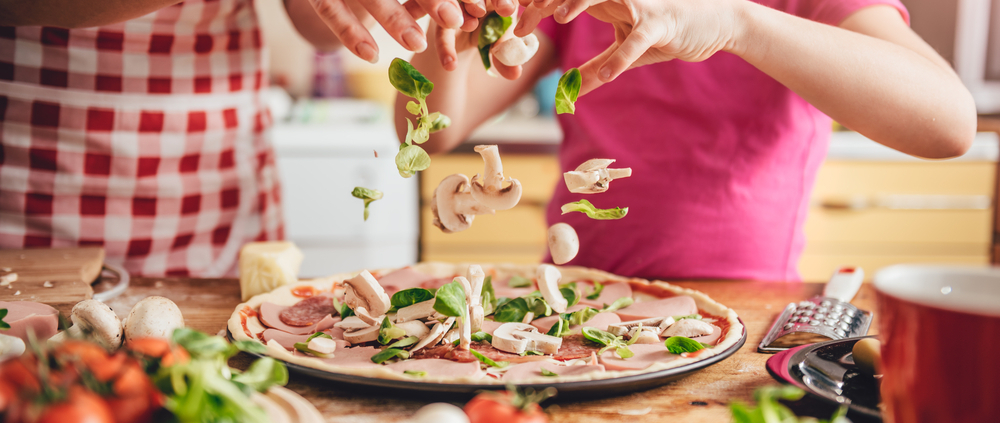 No family hates pizza night, but they might get tired of the same old pepperoni and mozzarella cheese. Here are four pizza recipes to switch up your slice!
TACO QUESADILLA PIZZA (Source: Closet Cooking)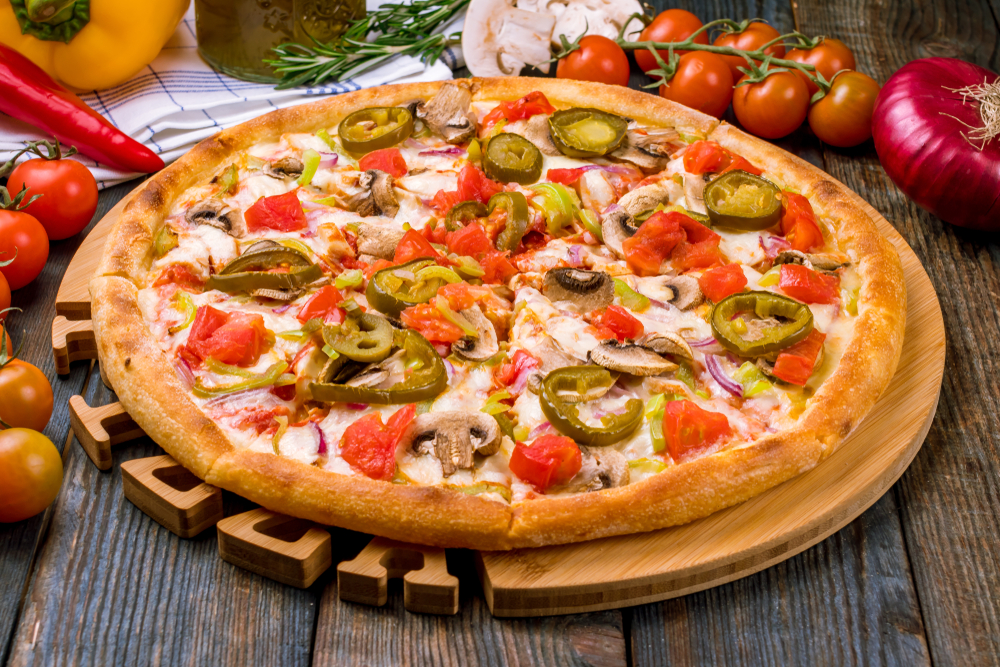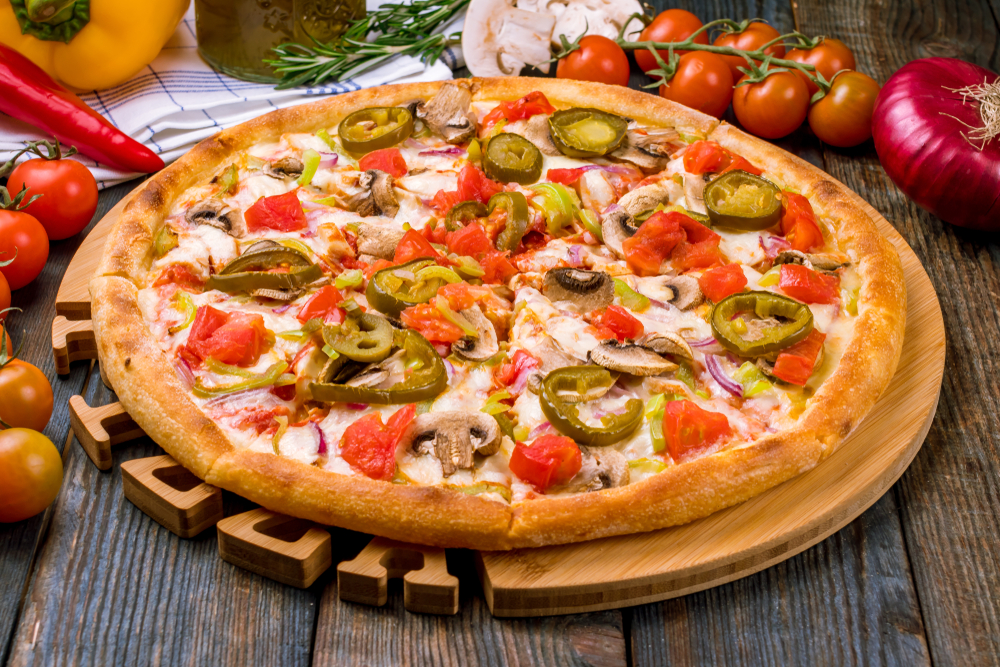 Ingredients
1/2 pound ground beef
1 tablespoon homemade taco seasoning or 1/2 store-bought packet
1/4 cup water
4 (8 inch) tortillas
2 cups cheese such as cheddar and/or jack, shredded
1/2 cup refried beans
3/4 cup salsa
1 tomato, diced
2 tablespoons black olives, sliced
4 green onions, sliced
Directions
Brown the meat in a pan over medium heat, drain the excess grease, mix in seasoning and water and simmer until most of the liquid is gone–about 10 minutes.
Sprinkle 1 cup of the cheese evenly over two tortillas followed by the meat and the 1/4 cup of the salsa.
Spread the refried beans over the remaining two tortillas and place them on top of the meat covered ones with the bean sides down.
Place one of the taco quesadillas in a large pan and grill it over medium heat until the cheese has melted and the tortillas are lightly golden brown, about 2-4 minutes per side.
Place the taco quesadilla on a large baking sheet and repeat for the remaining taco quesadilla.
Spread the remaining salsa over the tops of the taco quesadillas, sprinkle on the cheese, black olives, and green onions.
Broil in a preheated oven until the cheese has melted, about 2 minutes. (Keep an eye on them so they do not burn!)
BUFFALO CHICKEN PIZZA STRIPS (Source: Inspired Taste)
Ingredients
1 (13.8 ounce) roll Pillsbury Classic Pizza Crust or 12 ounces refrigerated pizza dough
3/4 cup buffalo wing sauce
2 cups shredded cooked chicken
4 ounces cheddar cheese, coarsely grated (about 1 cup)
4 ounces mozzarella cheese, coarsely grated (about 1 cup)
2 green onions, thinly sliced
Directions
Heat oven to 400 degrees F. Spray a baking sheet (with sides) with nonstick cooking spray.
Form pizza dough into a 15-inch by 10-inch rectangle (this doesn't have to be exact, just close). Place dough onto the baking sheet and bake for 8 minutes.
While the pizza crust bakes, add buffalo wing sauce and shredded chicken to a saucepan over medium heat. Cook, stirring occasionally, 3 to 5 minutes or until thoroughly heated.
Spread the buffalo chicken over the pre-baked pizza crust then scatter the cheddar cheese, mozzarella cheese and half of the sliced green onions on top.
Bake the pizza 6 to 10 minutes until cheese has melted and starts to bubble. Scatter remaining sliced green onions on top. Then serve cut into 16 pizza sticks.
JAPANESE PIZZA (Source: Food and Wine)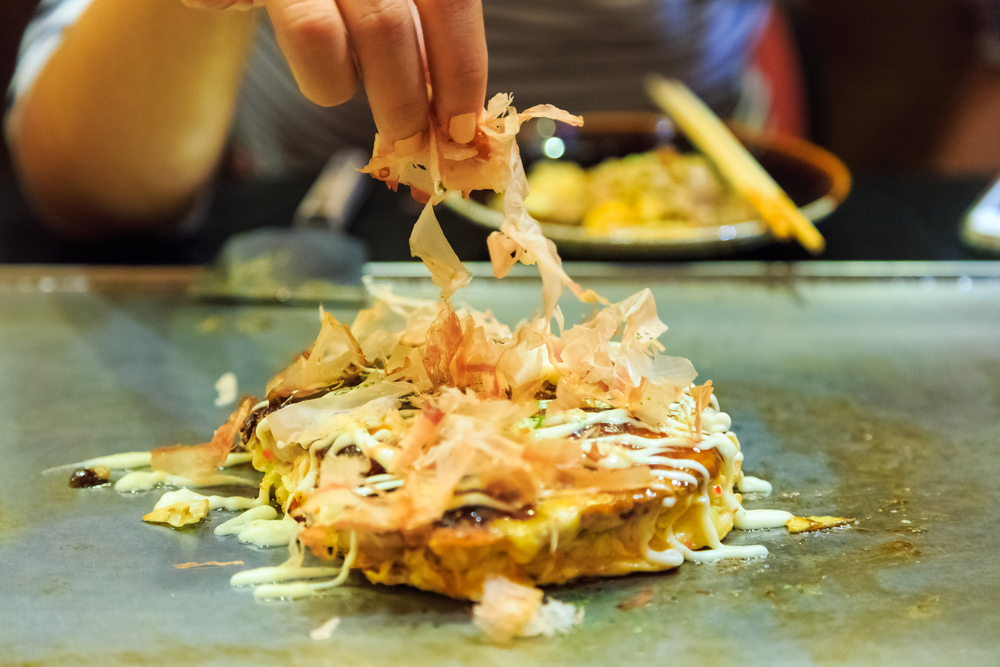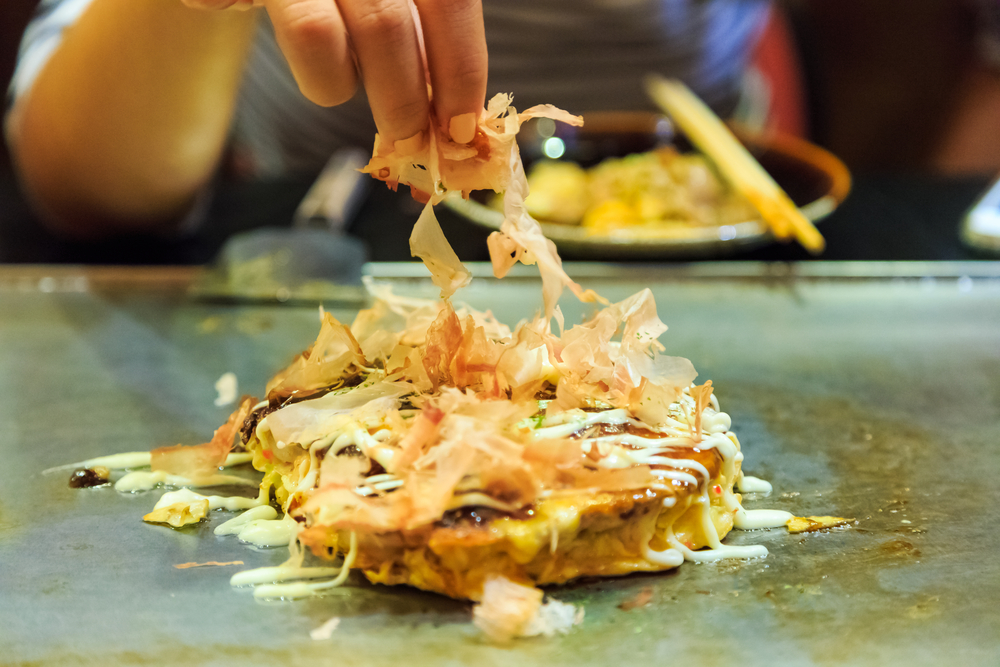 Ingredients
2 1/2 ounces shiitake mushrooms—stemmed, caps thinly sliced
2 tablespoons soy sauce
2 tablespoons canola oil
1/2 teaspoon toasted sesame oil
3 cups cooked sushi rice
5 ounces firm tofu, sliced
2 teaspoons unagi sauce (optional)
1/3 cup shelled edamame
5 ounces Manchego cheese, shredded (about 1 1/2 cups)
1/2 cup soybean sprouts
Kosher salt
Togarashi and toasted white and black sesame seeds, for sprinkling
1 cup large bonito flakes
6 shiso leaves, thinly sliced
1/4 cup cilantro leaves
Directions
Preheat the oven to 375º. In a bowl, toss the mushrooms and soy sauce. Let stand for 5 minutes; drain.
In a 9-inch ovenproof nonstick skillet, heat the oils. Press the rice into the skillet, about 1/4 inch thick. Cook over moderately high heat until the bottom is golden, 10 minutes.
Top with the tofu in a single layer and drizzle with unagi Top with the shiitake, edamame, cheese and bean sprouts and season with salt. Sprinkle with togarashi and sesame seeds.
Transfer the skillet to the oven and bake on the top shelf for 15 minutes, until the top is golden.
Slide the pizza onto a platter; top with the bonito, shiso and cilantro and serve.
OREO FUDGE BROWNIE PIZZA (Source: Dessert Now, Dinner Later)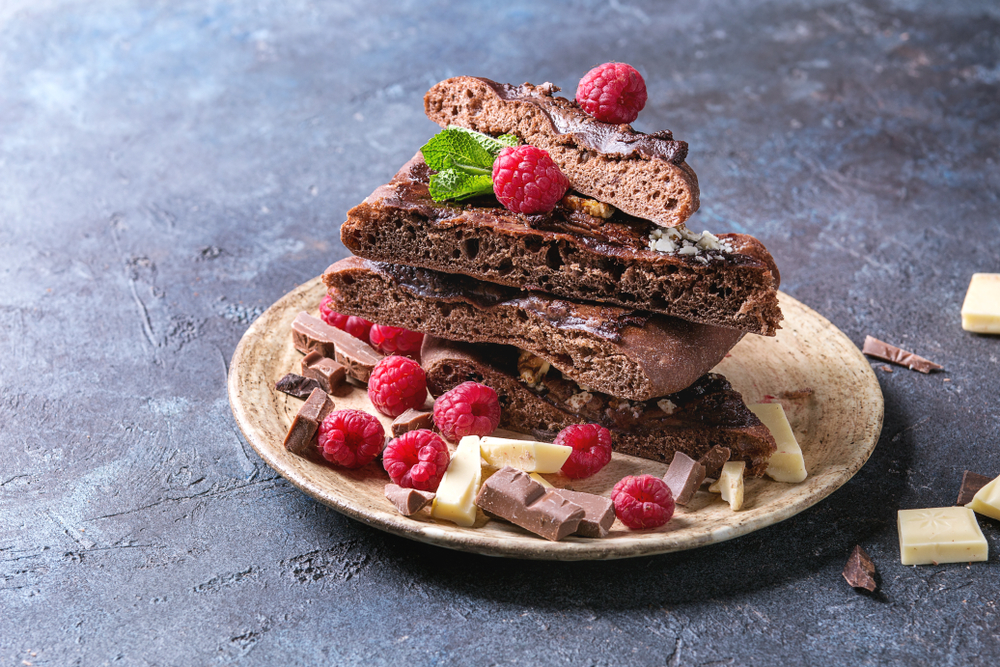 Ingredients
For the Pizza:
18 Oreos (for the bottom of the pizza pan)
1 (13×9) family size box brownies
2 large eggs
1/4 cup water
1/2 cup oil
For the Frosting:
1/2 cup Crisco shortening
1/2 cup butter
1 cup marshmallow creme or fluff
1 tsp vanilla
1 1/4 cup powdered sugar
10 Oreos, chopped or quartered (depending on the size chunk you want on top)
Fudge Sauce:
2 Tbsp butter
2 Tbsp corn syrup
1/2 cup chocolate chips
*optional 2 tsp HOT water
Directions
In a large bowl, mix the brownie mix, eggs, water, & oil well.
Lightly grease a 12″ rimmed pizza pan (I used a foil one from the dollar store.) Place 18 Oreos in the bottom of the pan. Pour brownie batter over and around the Oreos to evenly fill the pan.
Bake at 350 degrees Fahrenheit for 25 minutes (check doneness with a toothpick.) Remove from oven to cool.
While the brownies bake and cool, make the frosting by beating the shortening and butter in a stand mixer with the paddle attached (or a hand mixer.) Mix in marshmallow creme and vanilla. Slowly mix in powdered sugar. Spread frosting evenly over top of the brownies. Top with chopped Oreos.
Combine the ingredients for the fudge sauce in a bowl. Heat in the microwave for 40 seconds. Stir and drizzle over the brownie pizza. Add water if needed, for a thinner drizzle.
Remember to use our pizza cutter for best results!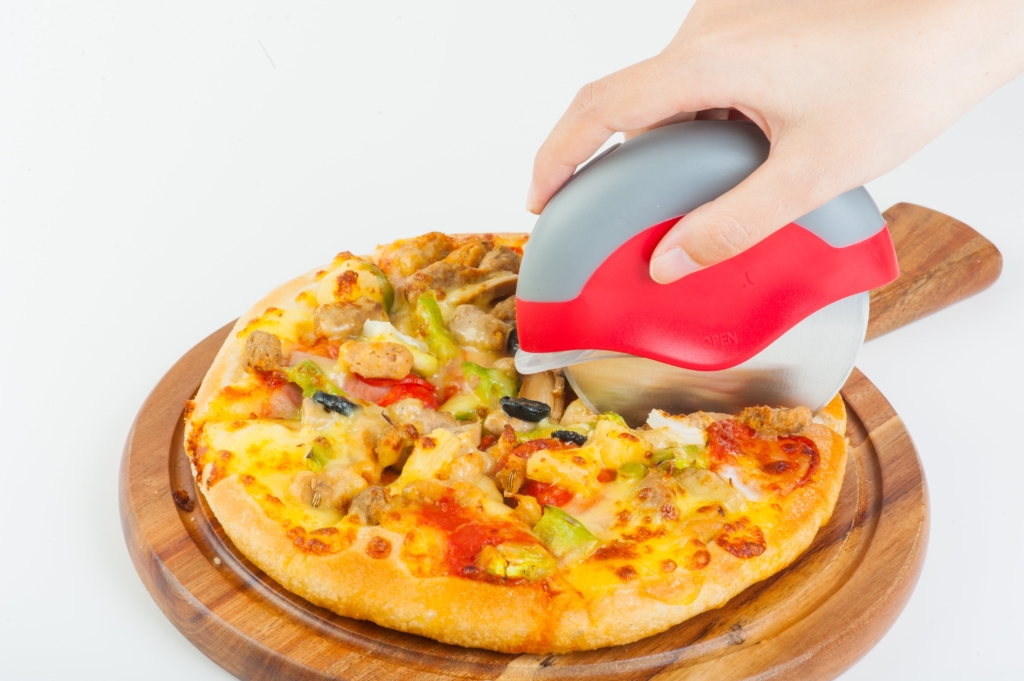 SaveSave
SaveSave
SaveSave
https://info.jokari.com/wp-content/uploads/2018/09/pizza-night.jpg
668
1000
Elizabeth Clay
https://info.jokari.com/wp-content/uploads/2022/05/jokari_logo.webp
Elizabeth Clay
2018-09-28 10:00:58
2018-09-21 11:34:10
Switch Up Pizza Night!