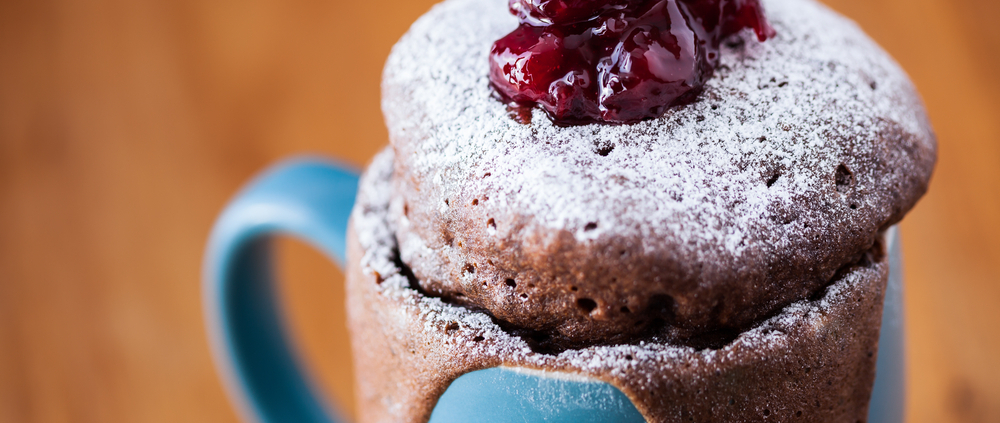 It's Tuesday night and your kids are begging for something special for dessert. You don't have time to make cookies, but you don't want to spend the money to go out for ice cream. What do you do? Make some tasty mug desserts, of course!
MICROWAVE JELLY DONUT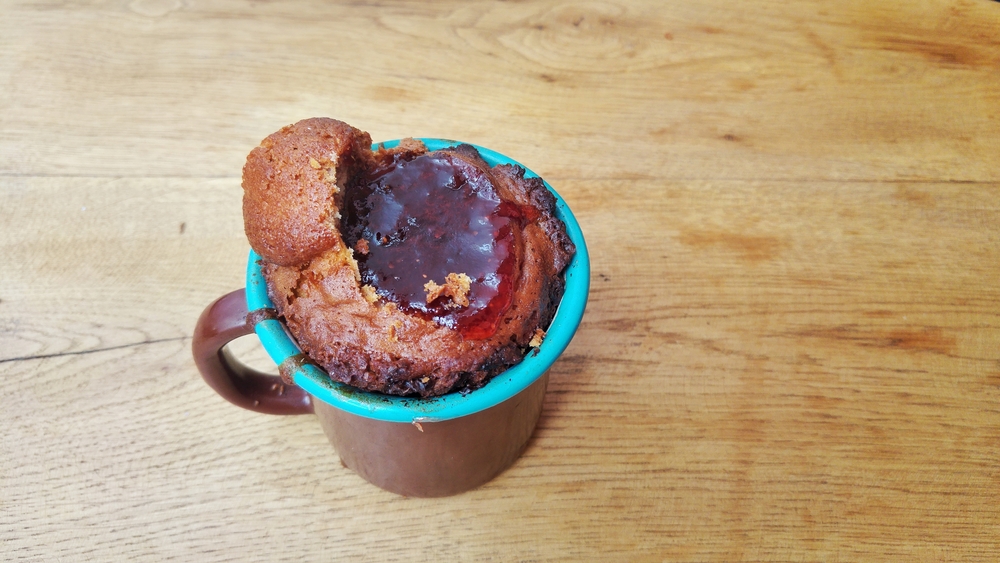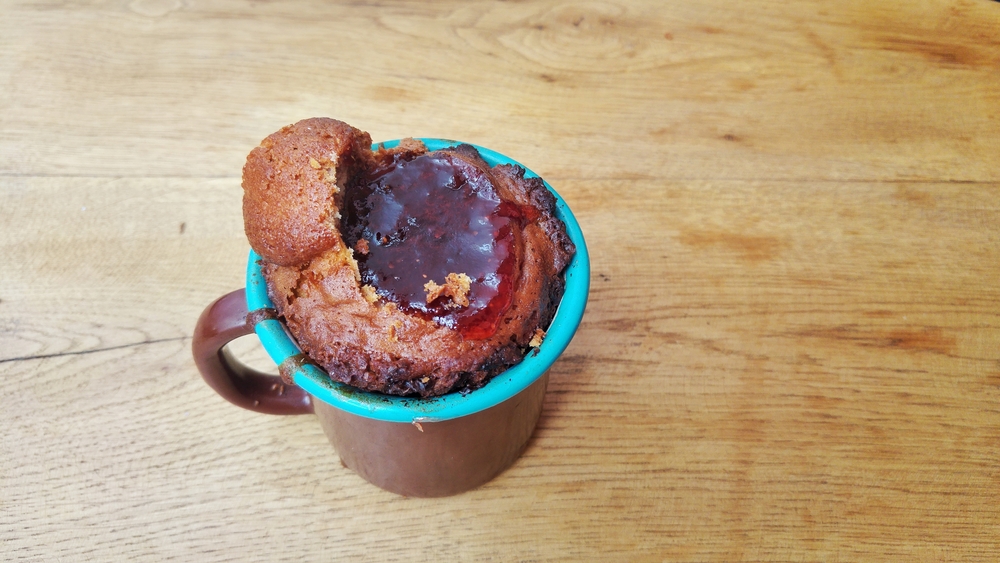 Ingredients
2 Tablespoons unsalted Butter
4 Tablespoons all-purpose flour
yolk of one egg
2 Tablespoons sugar
1 Tablespoon milk
1/2 teaspoon baking powder
1/4 teaspoon ground cinnamon
1 tablespoon strawberry jam (or any fruit flavor you prefer)
Cinnamon sugar to garnish
Directions
Place butter into a microwavable mug and microwave for 20-25 seconds, until melted.
Add in the remaining ingredients; mix well with a fork until just combined
Once the batter is mixed place the spoonful of jam down into the batter
Microwave for 45 seconds or until is firm on top (time may vary, depending on microwave power).
Sprinkle cinnamon sugar on top and enjoy immediately.
S'MORES MUG CAKE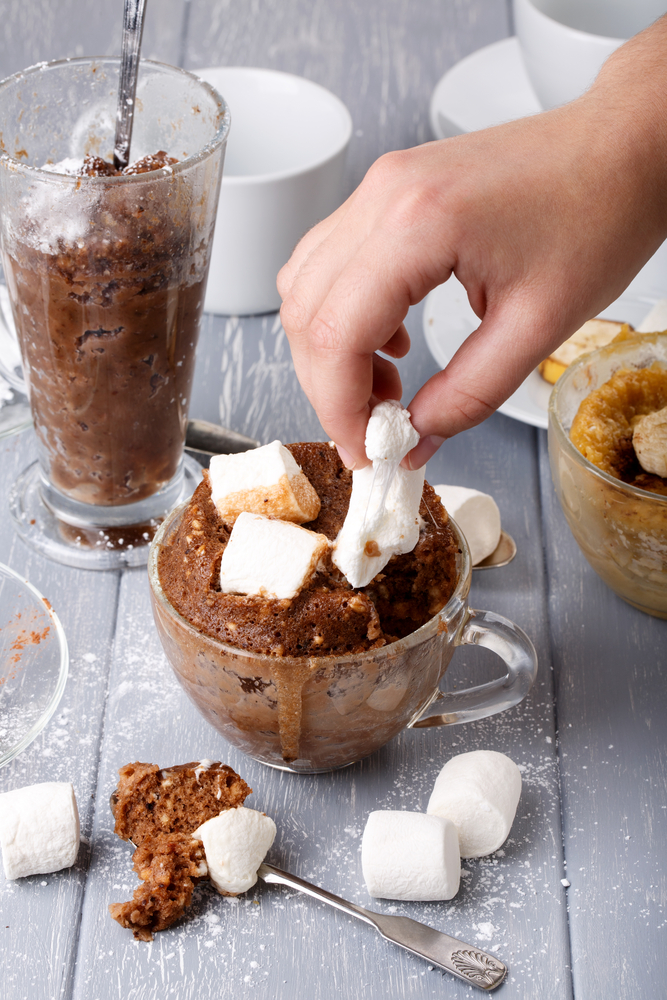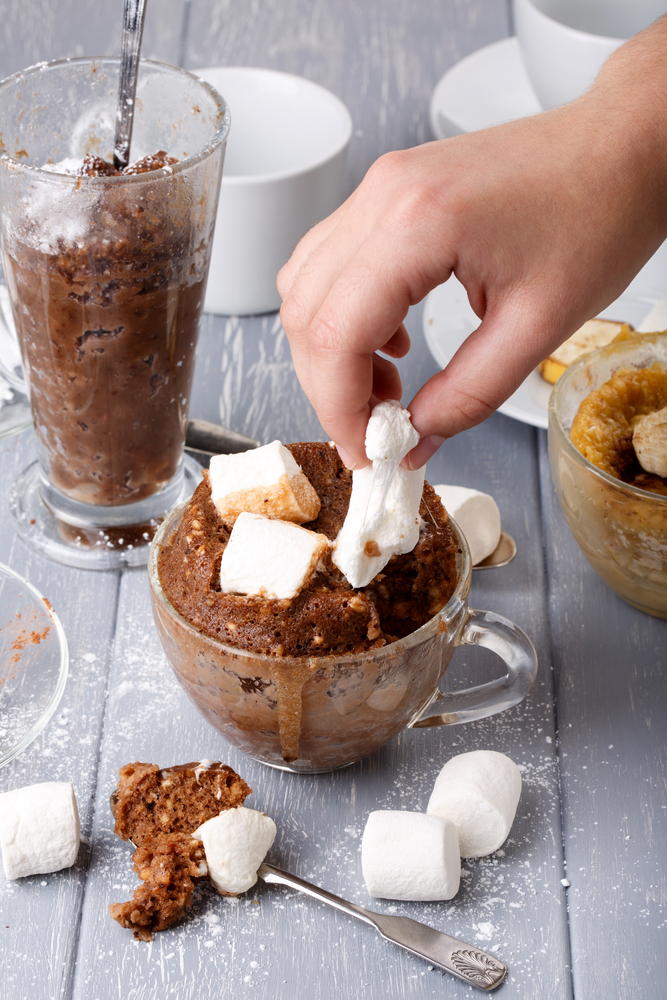 Ingredients
3 1/2 Tablespoons all-purpose flour
2 tbsp graham cracker flour
1/4 teaspoon baking powder
1 Tablespoon vegetable oil
3 Tablespoons of milk
1 Tablespoon granulated sugar
1 Tablespoon graham cracker crumbles
1 1/2 Tablespoon of one-inch chocolate squares, halved
3 large marshmallows (you can roast them on your stovetop if you have a gas stove)
Directions
Combine flour, powdered graham crackers, baking powder, oil, milk, and sugar into a microwave-safe mug at least 8 oz in size.
 Mix with a small whisk until no flour chunks remain. Stir in graham cracker crumbles and 1 tbsp of chocolate disc halves. Add remaining chocolate discs on top of the batter.
Cook in the microwave for about 1 minute. Top of cake should look done and the surface of the cake should be dry rather than gooey.
Add marshmallows on top to the still-warm cake, pushing down slightly so that the marshmallows partially melt onto the cake surface. Serve immediately.
FUNFETTI MUG CAKE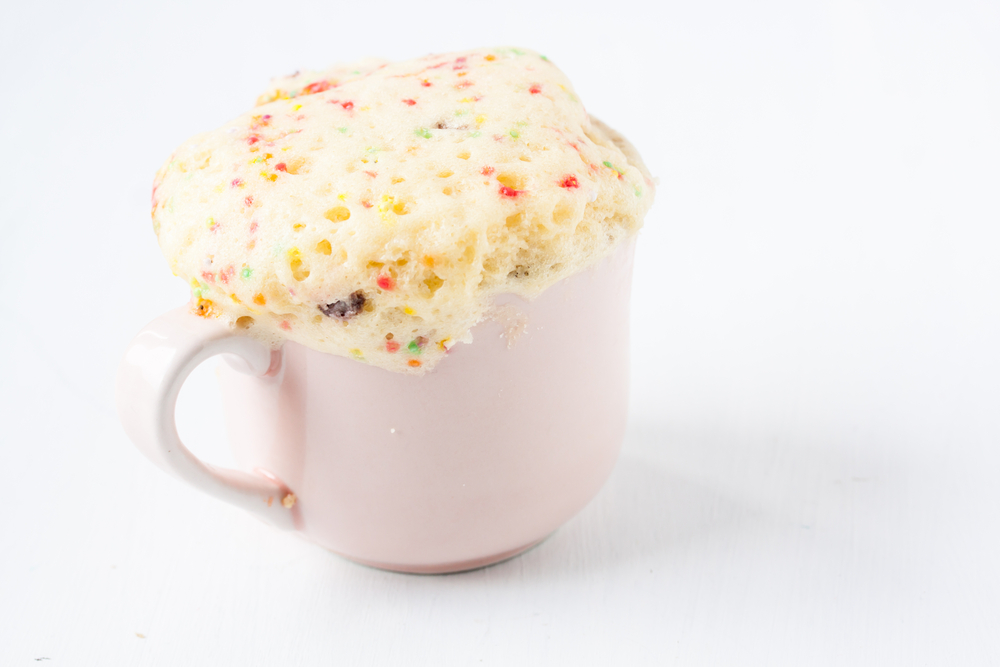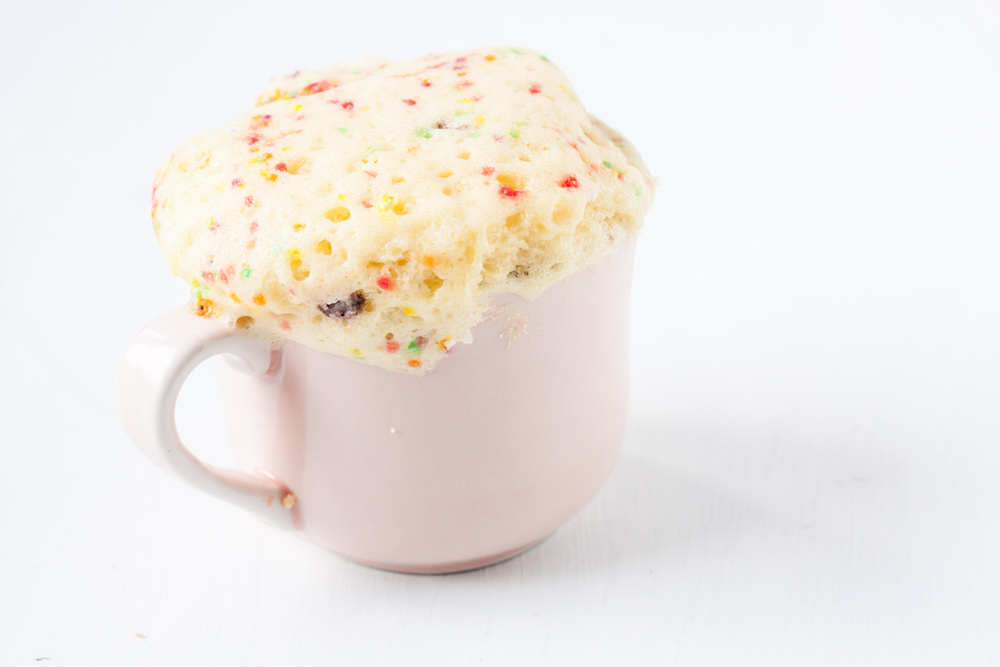 Ingredients
1/4 cup + 2 Tablespoons all-purpose flour
2 Tablespoons sugar
1/4 Teaspoon baking powder
1/4 cup milk, at room temperature
2 Tablespoons salted butter, melted and cooled
1/2 teaspoon pure vanilla extract
1/4 teaspoon pure almond extract
1 Tablespoon + 1 teaspoon rainbow sprinkles
Directions
In a small bowl, whisk together flour, sugar, and baking powder until thoroughly, completely combined, with no streaks of any ingredients remaining.
Blend in milk, butter, vanilla, and almond extract until batter is smooth. Quickly stir in 1 tablespoon of sprinkles.
Pour batter into a 14-ounce (or larger) microwave-safe mug with straight sides. Top with remaining 1 teaspoon sprinkles.
Microwave on high for 1 1/2 minutes (give or take 30 seconds depending on the strength of your microwave), or until cake is done to your liking. Allow to cool for a couple of minutes before serving.
SINGLE SERVING APPLE CRISP (Source: Well Floured)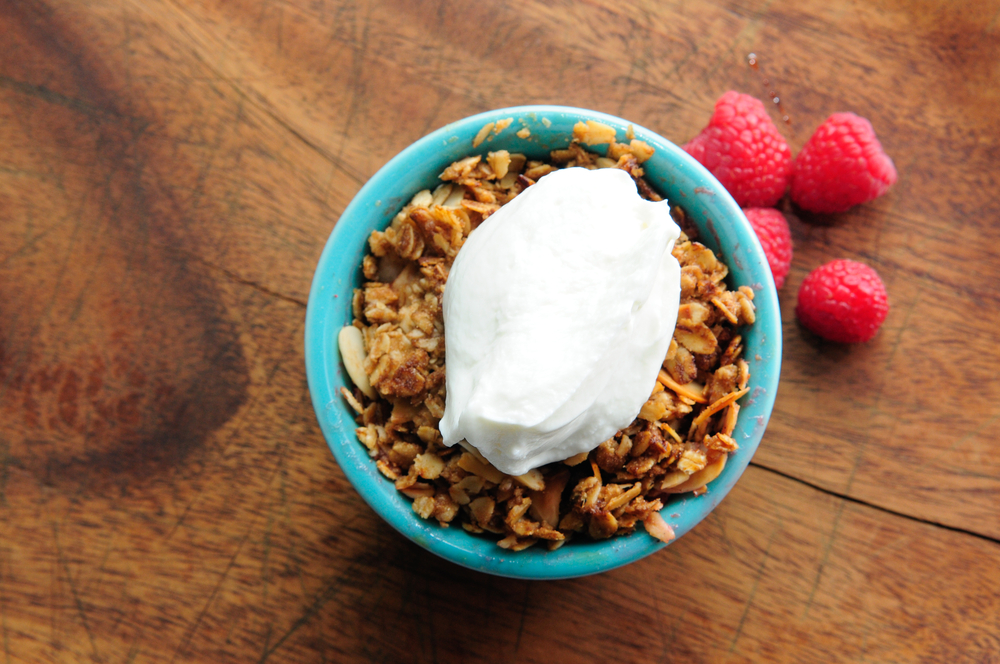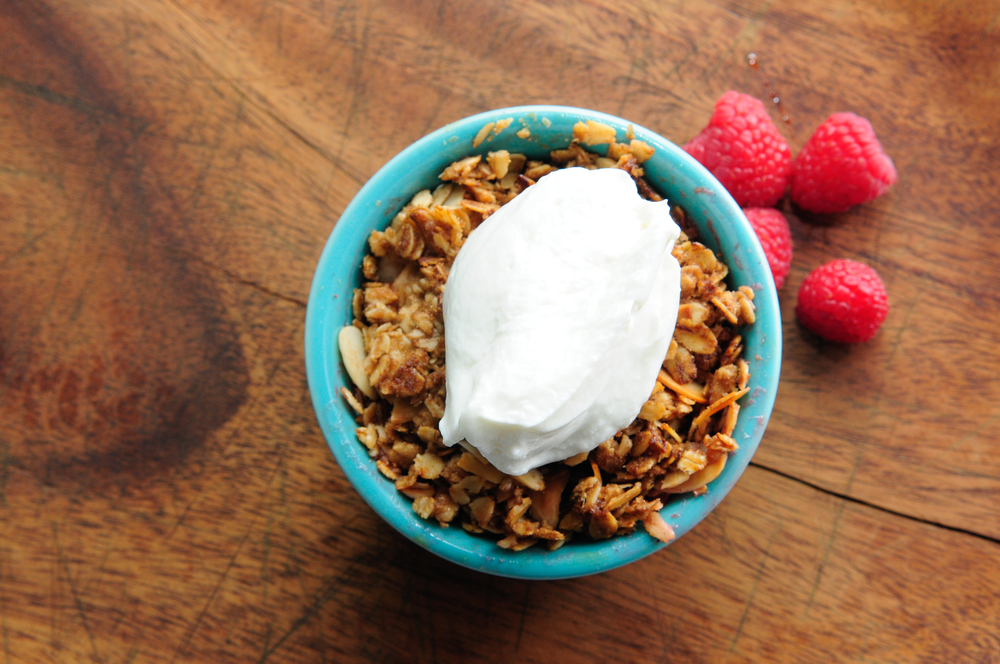 Ingredients
1 small gala apple, peeled, cored, and sliced
2 teaspoon granulated sugar
1 teaspoon cinnamon, divided
1/4 cup oats
2 Tablespoons all-purpose flour
2 Tablespoons brown sugar
2 Tablespoons butter, melted
Directions
In a small microwave-safe bowl combine the apples, granulated sugar, and 1/2 tsp cinnamon.
Combine the oats, flour, brown sugar, and remaining 1/2 tsp cinnamon.
Add the melted butter and stir to combine everything.
Top apples with the oat mixture.
Microwave on high 90 – 120 seconds. Careful- the bowl will be HOT!
Top with whipped cream or vanilla ice cream.
Remember: Each of these recipes makes one mug dessert. And make sure to use our Bowl Holder to avoid burns when removing from the microwave!
https://info.jokari.com/wp-content/uploads/2018/09/mug-featured.jpg
667
1000
Elizabeth Clay
https://info.jokari.com/wp-content/uploads/2022/05/jokari_logo.webp
Elizabeth Clay
2018-09-21 10:00:52
2019-01-10 18:01:50
No Time? Try Mug Desserts!