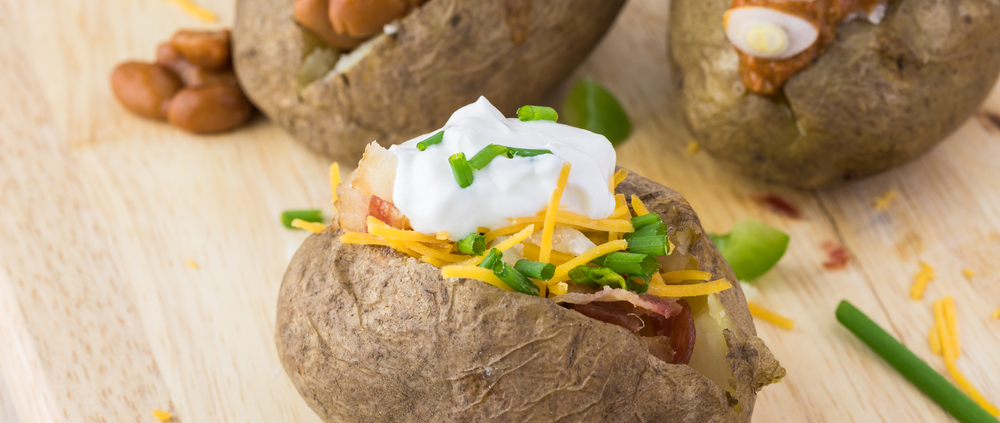 Cooking with kids can sometimes be a challenge, even when you're making easy recipes you know they'll love. Pasta, tacos, and pizza might be tasty, but we all get tired of making and eating the same thing week after week (except maybe that five-year-old that's only been eating fish sticks for the past two years). If you're looking for fun, new ways to cook with your family, here are a few suggestions…Even for the pickiest fish stick aficionado.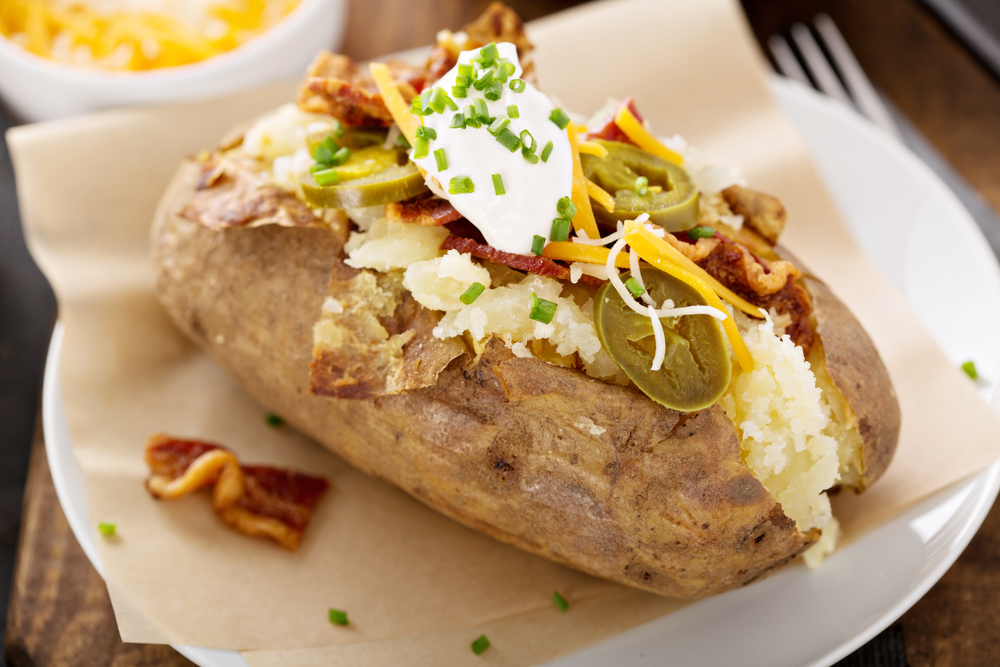 LOADED TWICE-BAKED POTATO
Healthier than French fries, but still with an edge of creativity. You don't strictly have to follow what's on here…use whatever toppings you like best! Put the potatoes in the slow cooker before work and then work together to finish making them when you get home.
Ingredients
4 medium baking potatoes
Cooking spray
1/8 teaspoon kosher salt
1/4 cup fat-free milk
1/4 cup plain fat-free Greek yogurt
2 ounces shredded sharp cheddar cheese (about 1/2 cup), divided
1/4 teaspoon kosher salt
1/4 teaspoon freshly ground black pepper
1 tablespoon chopped fresh chives
2 bacon slices, cooked and crumbled
Directions
Scrub potatoes; rinse and pat dry with paper towels. Coat potatoes with cooking spray; pierce potatoes with a fork. Rub 1/8 teaspoon kosher salt evenly over potatoes; place in an oval 6-quart electric slow cooker. Cover and cook on LOW for 8 hours or until potatoes are tender. Cool slightly.
Cut each potato in half lengthwise; scoop out pulp into a medium microwave-safe bowl, leaving a 1/8-inch-thick shell. Mash pulp with a potato masher. Stir in milk, yogurt, 1/4 cup cheese, 1/4 teaspoon kosher salt, and pepper. Microwave on HIGH for 1 minute or until thoroughly heated.
Spoon potato mixture evenly into shells; sprinkle evenly with remaining 1/4 cup cheese. Arrange potato halves in bottom of slow cooker. Cover and cook on HIGH for 25 minutes or until thoroughly heated and cheese melts. Sprinkle each potato half with about 1/2 teaspoon chives and about 1 teaspoon bacon.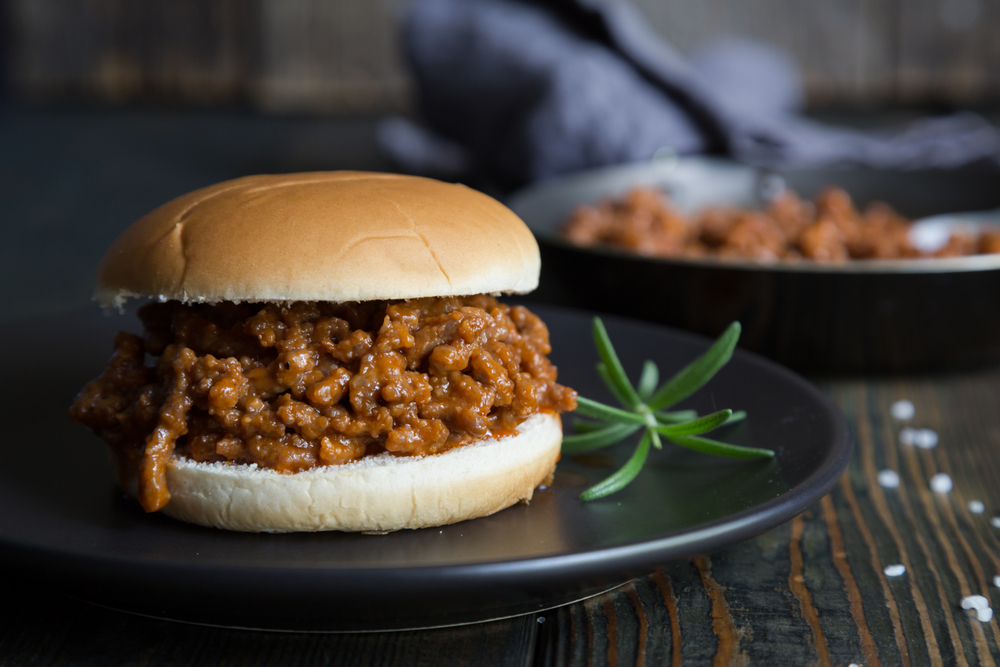 SLOPPY JANES
Bring your napkins! Kids love these messy sandwiches, and if you're not a fan of meat, try this healthier "Sloppy Jane" recipe (you can also use this recipe with ground sirloin or turkey in place of veggie crumbles).
Ingredients
12 ounces veggie crumbles
1/2 onion, diced
1 red pepper, seeded and diced
1 carrot, diced
2 garlic cloves, minced
1 cup reduced sodium vegetable broth
2-1/2 cups tomato sauce
1-1/2 tablespoons tomato paste
2 tablespoons olive oil
1 tablespoon ground chili powder
1-1/2 tablespoons brown sugar
1 tablespoon Worcestershire sauce
1/2 teaspoon ground black pepper
Salt to taste, if desired
3 rounds of pita bread, cut in half (can also use hamburger buns)
Directions
Add the olive oil to a large, deep skillet over medium-high heat. When it's hot, add onion, red pepper and carrot and cook until the onion becomes translucent.
Add the remaining ingredients and mix well.
Simmer the mixture for about 20 minutes.
Serve warm in the pita halves or with hamburger buns.
KEBABS
Or is it kebobs? No matter how you spell it, kids can help skewer veggies and meat in whatever pattern they want. Use our stainless steel skewers and Baggy Rack to make cleanup a breeze. Below is a recipe for Greek chicken kababs.
Ingredients
12 ounces chicken breast, cut into cubes
One pint of cherry or grape tomatoes
1 red onion, cut into wedges
1 green pepper, cut into large wedges
1 red pepper, cut into large wedges
1 tablespoon olive oil
2 teaspoons dried oregano
Salt and pepper to taste
Lemon wedges
Directions
Thread chicken, tomatoes and red onion onto wooden skewers. Arrange on a serving plate and brush with olive oil. Sprinkle dried oregano over the kabobs and season with salt and pepper. Refrigerate, covered, for up to 24 hours.
To finish, cook the kabobs on a hot grill until the chicken is cooked through (the chicken should register 165 degrees F in the center). Transfer to a clean serving plate and squeeze lemon wedges over the top. Serve immediately.
PECAN-ENCRUSTED TILAPIA FISH STICKS
For something a bit more upscale but still tasty, try making your own fish sticks. Have the kids crush up the nuts and coat the fish while you brown them up. Serve with a nice salad (or, let's be honest…tater tots) for a full meal.
Ingredients
1 pound tilapia fillets, sliced lengthwise
1 cup flour
1 tablespoon Dijon mustard
2 eggs
2 cups panko breadcrumbs
1 cup pecans, crushed
Salt and pepper to taste
2 tablespoons olive oil
Directions
Place the flour in a small bowl and set aside. In a medium bowl, whisk together the eggs and Dijon mustard and set aside. Combine the breadcrumbs and pecans in a third bowl and set aside.
Dip each tilapia "stick" into the flour, and then the egg mixture and finally dredge the "stick" in the breadcrumb mixture. Repeat with the remaining fish sticks until all are breaded and ready to cook. Sprinkle with salt and pepper and set aside.
Heat the oil in a large skillet over medium-high heat. Add the fillets and cook until golden brown and the fish flakes easily, about three minutes per side. Serve immediately with your favorite dipping sauces.
https://info.jokari.com/wp-content/uploads/2018/12/jokari-baked-potato-cover.jpg
668
1000
Cory Taggart
https://info.jokari.com/wp-content/uploads/2022/05/jokari_logo.webp
Cory Taggart
2019-03-29 10:00:43
2019-03-27 16:25:21
Healthy Dinners to Make With the Family