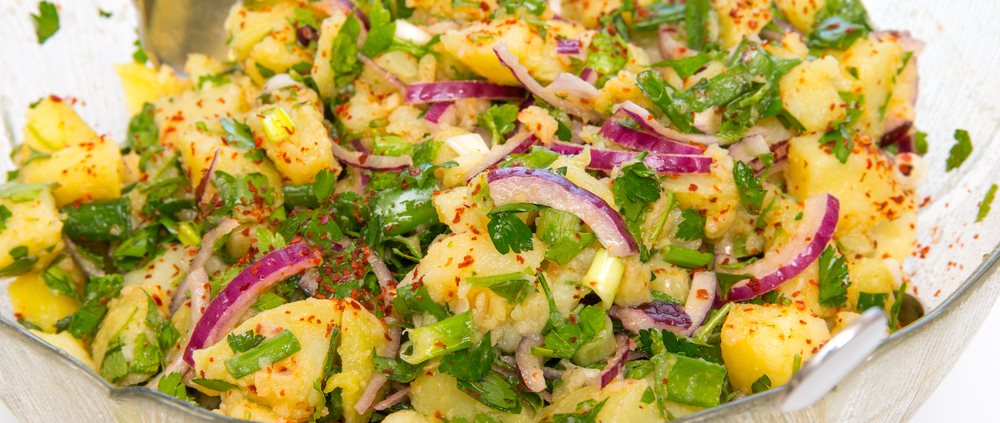 Summer is here, and that means picnics, barbeques, and cookouts- and no gathering would be complete without potato salad. While the standard is a crowd-favorite, these unique spins give your dish a burst of flavor and fun. And if the task of peeling ALL…THOSE…POTATOES sounds a little daunting, don't forget to use your Tater Gator when scrubbing your spuds!
LEMON GARLIC POTATO SALAD (Courtesy of My Recipes)
Ingredients
1 1/2 pounds Yukon gold potatoes
1 1/2 pounds sweet potatoes
2/3 cup olive oil
2 teaspoons lemon zest
1/4 cup fresh lemon juice
3 garlic cloves, minced
1 Tablespoon Dijon mustard
1 teaspoon salt
3/4 teaspoon freshly ground pepper
1/2 cup chopped lightly salted, roasted pecans
1/4 cup chopped fresh basil
Directions
Cook potatoes in boiling water to cover 30 minutes or until tender; drain and cool 20 minutes.
Meanwhile, whisk together olive oil and next 6 ingredients; let stand 30 minutes.
Peel potatoes, and cut into 1/4-inch-thick slices. Arrange potatoes in rows in a shallow 2-qt. baking dish, alternating Yukon gold and sweet potatoes. Pour olive oil mixture over potatoes; sprinkle with pecans and basil.
ITALIAN POTATO SALAD (Courtesy of Barefoot in the Kitchen)
Ingredients
2 – 2 1/2 pounds potatoes
1/4 cup olive oil
2 Tablespoons coarse-ground or whole grain mustard
1 Tablespoon apple cider vinegar
2 teaspoons honey
1/2 teaspoon kosher salt add more to taste
1/2 teaspoon freshly ground black pepper
8-12 ounces salami thinly sliced, quartered bite-size, about 2 cups worth
2 green onions sliced very thin, about 1/4 cup worth
small handful of parsley leaves minced, about 2 tablespoons worth
Directions
Boil the potatoes until fork tender. (When you stab them with a fork, they should slide right off the fork.) Drain and cool.
Peel the potatoes and dice into 1/2-inch pieces. (You should have about 6 cups of diced potatoes.)
Place the potatoes in a large mixing bowl.
Combine the oil, mustard, honey, vinegar, salt, and pepper in a jar. Seal tightly with a lid and shake until well combined.
Pour the dressing over the potatoes and stir gently to coat.
Add the salami, green onions, and parsley. Stir well. Serve immediately or refrigerate until ready to serve- it will keep for up to three days.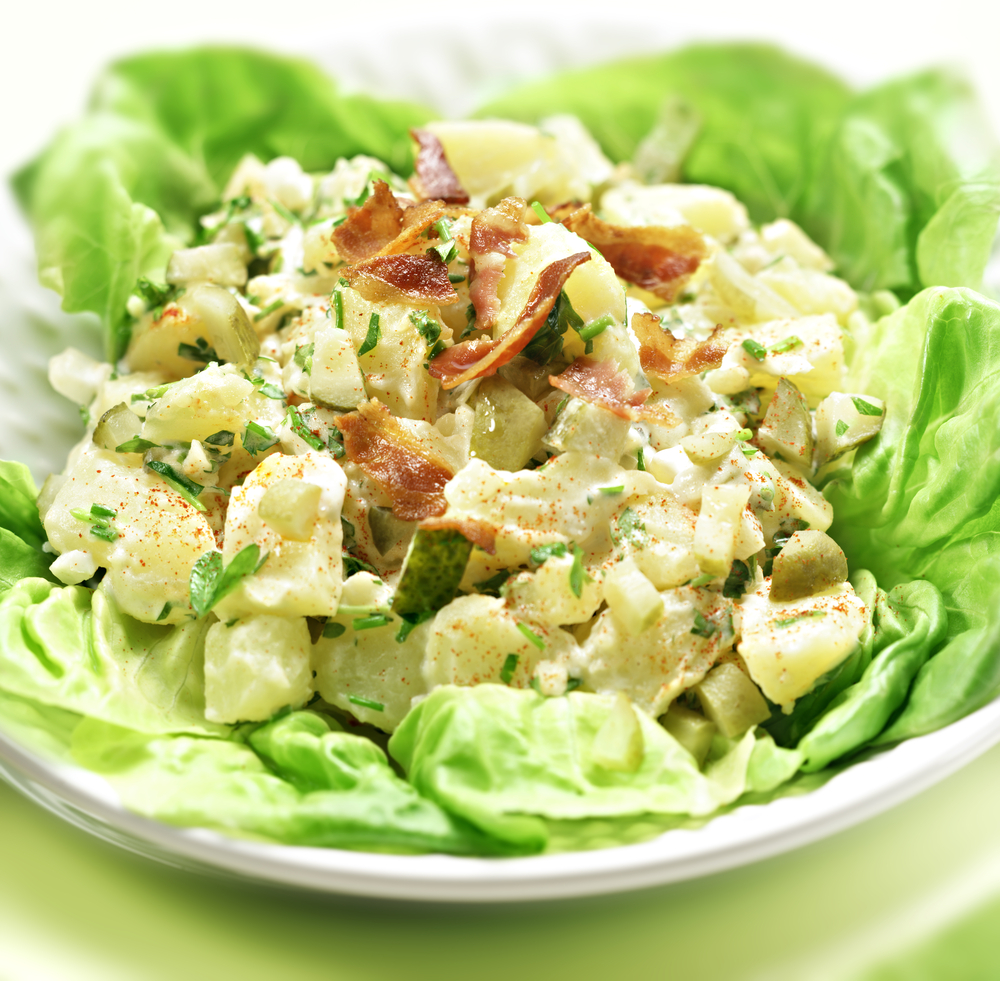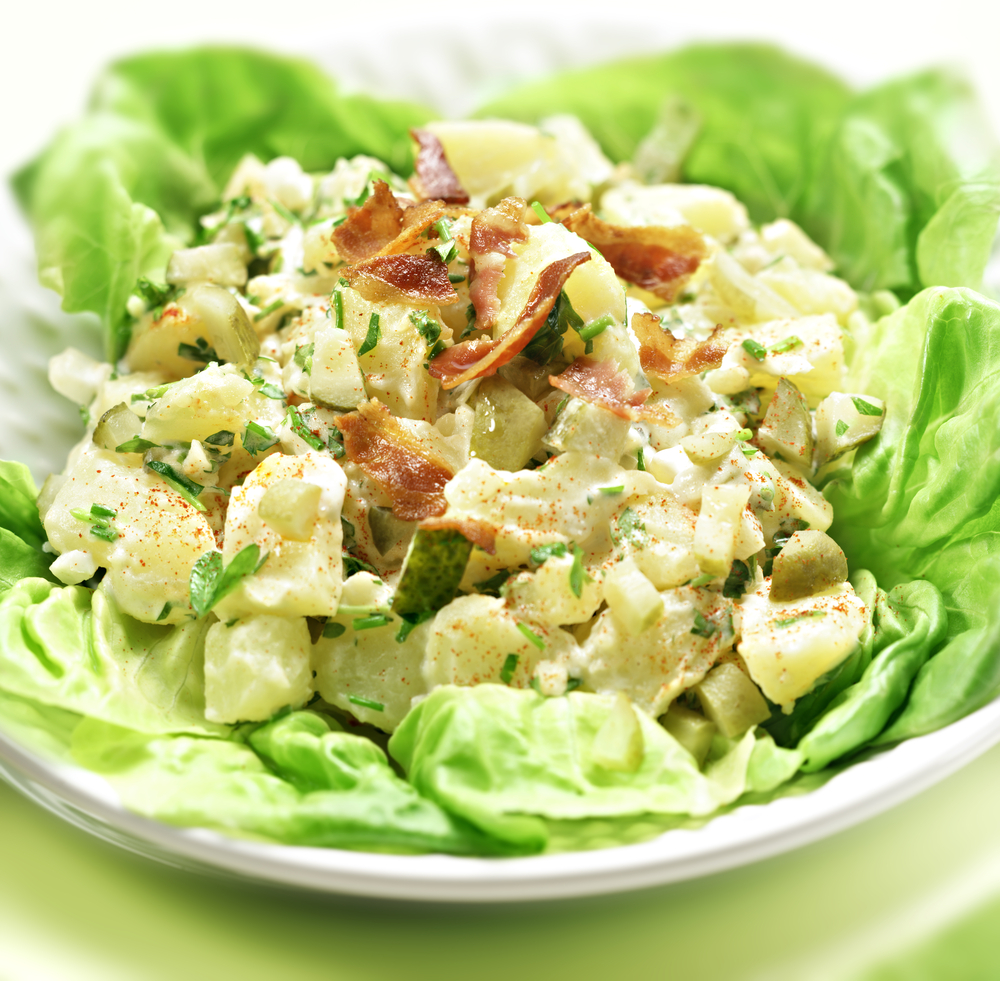 POTATO SALAD WITH EGGS AND BACON (Courtesy of Bon Appetit)
Ingredients
6 medium russet potatoes (about 2 pounds), peeled and cut into 1″ pieces
2 Tablespoons plus ½ teaspoon kosher salt
3 large eggs
4 slices bacon
1 cup mayonnaise
½ cup sour cream
2 Tablespoon dill relish
1 Tablespoon Dijon mustard
1 Tablespoon garlic powder
1 Tablespoon freshly ground black pepper
1 cup halved cherry tomatoes
½ cup halved pitted black olives from a can
Directions
Place potatoes in a large pot and pour in cold water to cover by two inches. Add two tablespoons of salt and bring to a boil. Reduce heat and simmer until potatoes are just tender, about 15 minutes. Drain, then let cool slightly (the potatoes should be warm when you dress them, which will help them soak up the dressing).
Meanwhile, cook eggs in a large saucepan of boiling water for eight minutes (whites and yolks will be set). Drain; transfer to a bowl of ice water and let cool. Drain, peel, and quarter eggs.
Cook bacon in a large skillet over medium heat, turning halfway through, until brown and crisp (8–10 minutes). Transfer bacon to paper towels to drain and let cool slightly. Tear into one-inch pieces. Reserve two tablespoons bacon fat in the pan.
Whisk mayonnaise, sour cream, relish, mustard, garlic powder, pepper, and remaining ½ teaspoon salt in a large bowl. Add potatoes, eggs, tomatoes, olives, half of the bacon, and reserved bacon fat and fold gently until combined and completely coated. Transfer salad to a platter and top with remaining bacon.
AVOCADO POTATO SALAD (Courtesy of Gimme Some Oven)
Ingredients
3 pounds Yukon Gold or red potatoes, quartered
Kosher salt
2 Tablespoons apple cider vinegar
1 1/4 cups  plain Greek yogurt or mayonnaise
1 Tablespoon Dijon mustard
1/4 teaspoon freshly cracked black pepper
4 hard-boiled eggs, peeled and diced
2 medium organic avocados, peeled, pitted and diced
half of a small red onion, peeled and thinly-sliced (or diced)
1/2 cup chopped celery (about 2-3 celery ribs)
1/4 cup chopped fresh cilantro
optional toppings: a pinch of chili powder, extra chopped fresh cilantro, extra black pepper
Directions
Place the potatoes in the bottom of a large stockpot.  Fill the pot with cold water until it reaches an inch above the potatoes, then add a tablespoon of salt to the water.
Heat the potatoes over high heat until the water reaches a rolling boil.  Then reduce heat to medium and simmer for 15-20 minutes, or until the potatoes are fork-tender and cooked through.
Remove from heat and strain out the water.  Once the potatoes have cooled for a few minutes, remove and discard the potato skins.  Then dice the potatoes into small bite-sized pieces, and sprinkle with the vinegar.  Set aside.
In a large mixing bowl, whisk together the Greek yogurt (or mayo), Dijon mustard and black pepper until combined.
Add the diced potatoes, hard-boiled eggs, avocado, red onion, celery and cilantro to the mixing bowl.  Then very gently toss the potato salad until all of the ingredients are combined and evenly coated with the Greek yogurt sauce.
Garnish with optional toppings if desired. Serve immediately.  Or cover the salad with plastic wrap so that the plastic is completely touching the top of the salad with no air bubbles, and refrigerate for up to 2 days.
https://info.jokari.com/wp-content/uploads/2019/06/peeled-potato-salad.jpg
667
1000
Cory Taggart
https://info.jokari.com/wp-content/uploads/2022/05/jokari_logo.webp
Cory Taggart
2019-06-21 10:00:12
2019-06-20 17:02:44
Potato Salad Recipes With Extra A-Peel