'Tis the season to be merry! While "being merry" for some may involve the enjoyment of festive adult beverages, or perhaps cozying up to someone with a warm mug of tea,  it's also important to remember to keep properly hydrated at holiday time. In efforts to keep hydrated and also provide more drink options for your guests and their kids, why not give holiday infused water a try?
There are many varieties of flavored water on the market, but sometimes they get their natural flavor in not-so-natural ways. But it doesn't have to be that way. All you need is a simple flavor infuser, water and a few fresh ingredients of your choice to make a delicious holiday drink that's as crisp and refreshing as a new layer of snow on Christmas morning.
Check out these tried and true holiday-infused water recipes or get creative with festive flavor combinations of your own.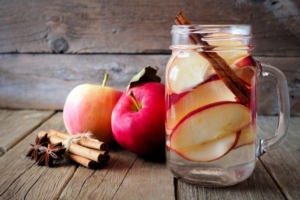 Apple Cinnamon Ginger Water
Nancy Creative was inspired to create infused water that's as fitting for fall as it is winter. Fresh sliced apples are delicious, especially when combined with cinnamon sticks as the perfect combination. Looking to spice it up ever so slightly? Adding fresh ginger root will do the trick. Combine all ingredients into an infuser ball, refrigerate overnight and enjoy the next day! As Nancy mentions, if you squeeze fresh lemon juice on your apple slices before putting them in the infuser, they won't turn brown, so your water creation will look fresh as can be!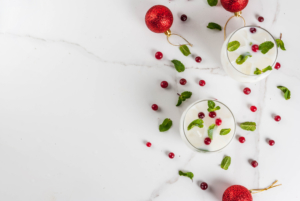 Cranberry and Mint Water
This cranberry and mint water is courtesy Oh So Delicioso and it is just that…oh so delicious! The red of the cranberries and green of the fresh mint simply pull in the colors of Christmas into one festive, refreshing drink of water that's made extra refreshing by the cooling mint. Combine fresh cranberries and mint and feel free to serve immediately!
If you'd prefer something with a bit more citrus flavor, combine the mint with grapefruit instead! According to The Chalkboard, a grapefruit is a great option for flavor as it helps to boost metabolism (ideal considering the holiday feast we're all about to eat!), strengthens our immune system and has the power to reduce stress – even the stress from holiday gift shopping!
Sometimes it's not easy to meet all of your water-drinking needs during the holiday season, but these creative holiday-infused water recipes make drinking water a bit more merry and bright.
https://info.jokari.com/wp-content/uploads/2018/10/infused-water.jpg
264
1000
Madie Weiser
https://info.jokari.com/wp-content/uploads/2022/05/jokari_logo.webp
Madie Weiser
2018-11-30 10:00:08
2020-11-11 16:13:20
Infused Water Recipes for the Holidays