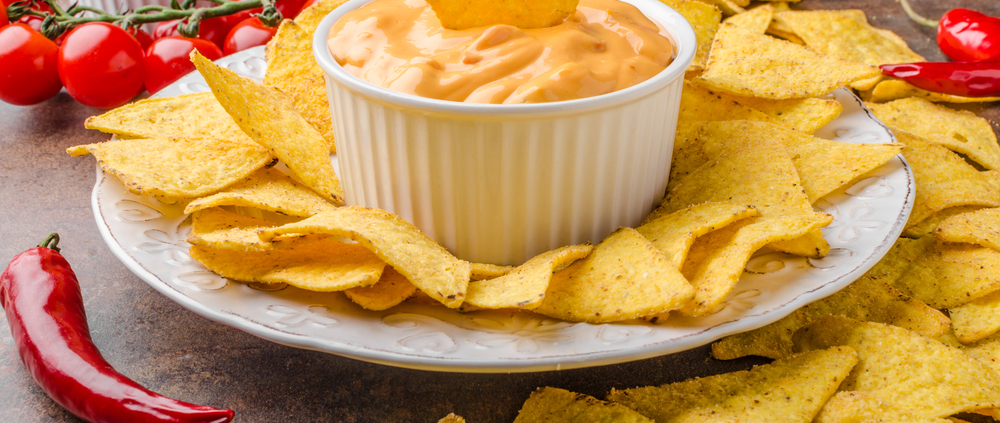 You receive a call from a close friend. You're catching up with each other, chuckling at small jokes, and saying how much you miss one another. Then all of a sudden you're making plans… for today?! You're excited to see them so you say yes, but as soon as you hang up the panic sets in. Not only do you have to rush to clean so that your friend doesn't confuse you for a cave person, but you have to whip up a snack to serve. You run to the cupboard to take stock of what you have- butter, flour, a bag of chips, various cheeses, salsa. Even with very basic ingredients and little time to prepare, you can create a very memorable snack for your small gathering simply by cooking a killer chip dipping sauce.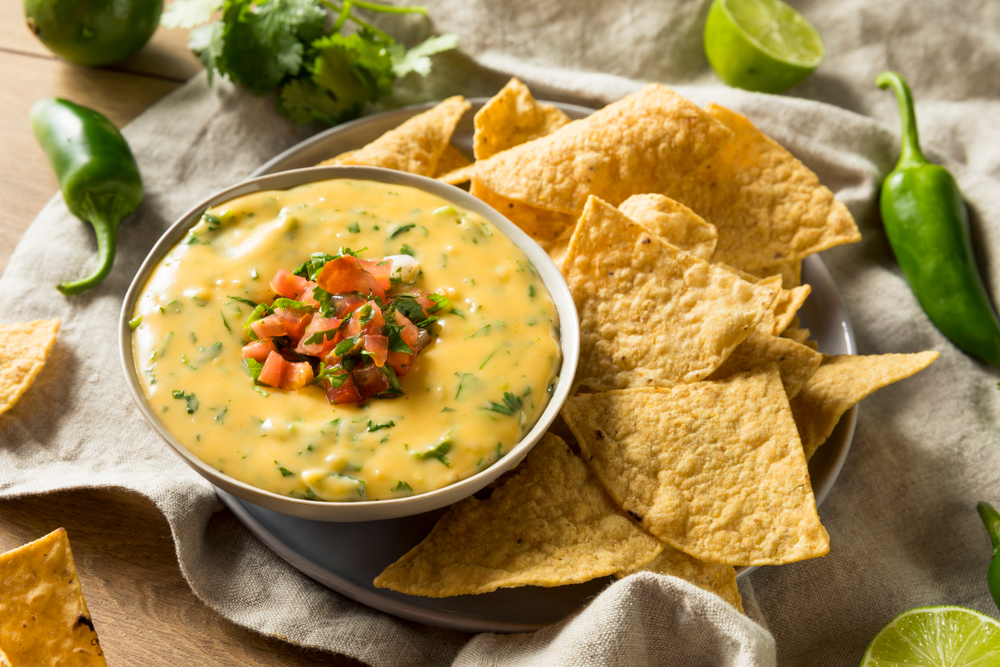 Nacho Cheese
Credit: Fifteen Spatulas
INGREDIENTS
2 tbsp butter
2 tbsp all-purpose flour
1 cup whole milk
1/4 tsp salt
1/8 tsp cayenne pepper
8 oz block sharp cheddar cheese* grated
INSTRUCTIONS
1) Melt the butter in a medium-sized skillet over medium heat.
2) Once the butter is melted add the flour.
3) Whisk until it combines into a smooth blond paste and starts to bubble around the edges.
4) Add the milk to the skillet and continue whisking.
5) Once the milk is incorporated, raise the heat to high and bring to a boil.
6) Once the milk has reached a boil, quickly lower the heat and reduce to a simmer. Allow the sauce to thicken slightly.
7) Add the cayenne pepper and salt and whisk to combine.
8) Turn off the heat, and remove the skillet from the stove. Add the cheese and gently stir, allowing the cheese to melt.
9) When the cheese is completely melted and the mixture smooth in consistency, the nacho cheese sauce is ready to serve. Enjoy immediately, as the sauce will get firm as it sits.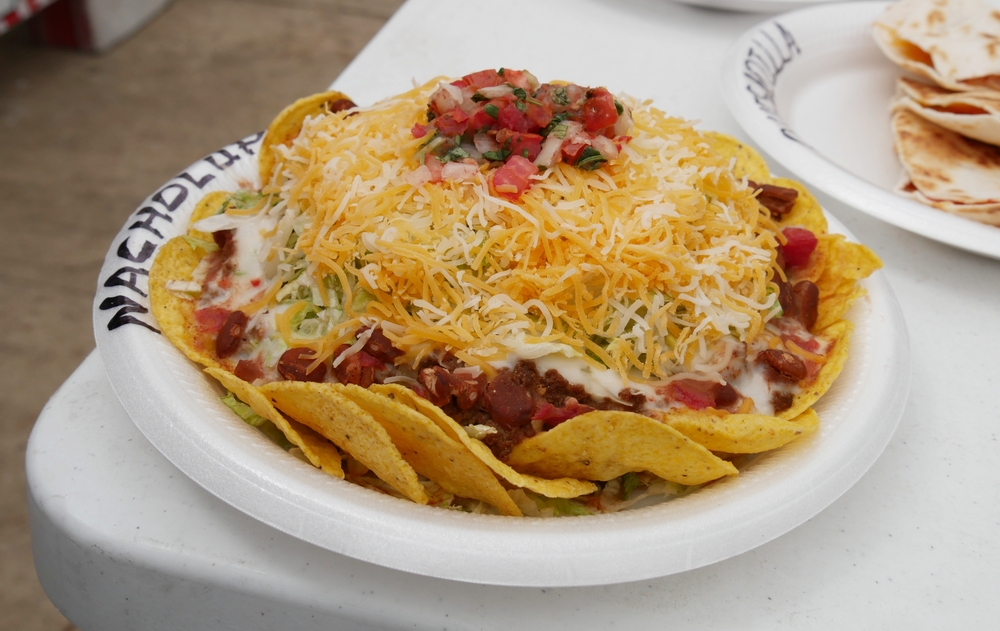 Layered Nacho Dip
Credit: Real House Moms
INGREDIENTS
8 oz cream cheese softened
8 oz light sour cream
½ tbsp taco seasoning
15.5 oz jar salsa
1 ½-2 cups shredded Mexican 4 cheese
tortilla chips
INSTRUCTIONS
1) Put the cream cheese in the bowl and mix until smooth.
2) Add the sour cream and taco seasoning and mix until well combined.
3) Spread the cream cheese mixture evenly in the bottom of a glass baking dish.
4) Top with the salsa, then with the shredded cheese.
5) Chill until the cheese firms back up a bit, about 30 minutes.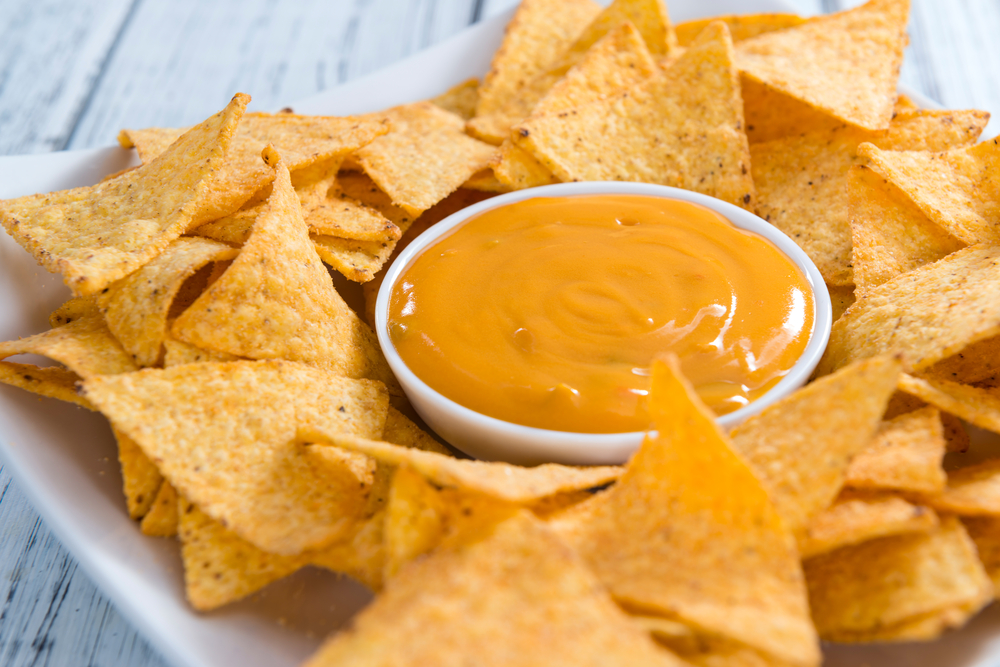 Vegan Queso
Credit: Cookie and Kate
INGREDIENTS
2 tablespoons avocado oil or extra-virgin olive oil
1 medium yellow onion, chopped
1 cup peeled and grated russet potato (4 ounces, about 1 small or ½ medium potato), preferably organic
4 cloves garlic, pressed or minced
½ teaspoon smoked paprika
½ teaspoon ground chili powder
½ teaspoon ground cumin
½ teaspoon garlic powder
½ teaspoon onion powder
½ teaspoon salt, more to taste
1 cup (5 ounces) raw cashews*
1 ½ cups water, more as necessary
¼ cup nutritional yeast
1 tablespoon rinsed oil-packed sun-dried tomatoes
2 teaspoons hot sauce (I used Chipotle)
1 teaspoon white wine vinegar or distilled white vinegar
⅔ cup well-drained fire-roasted tomatoes (I recommend Muir Glen brand) or chunky salsa
2 tablespoons chopped pickled jalapeños
INSTRUCTIONS
1) In a large saucepan, warm the olive oil over medium heat. Add the onion and a pinch of salt and cook, stirring often, until the onion is tender and turning translucent (roughly 5 minutes).
2) Add the grated potato, garlic, paprika, chili powder, cumin, garlic powder, onion powder, and salt. Stir to combine, and cook, stirring constantly, for 1 to 2 minutes.
3) Add the cashews and water, and stir to combine. Let the mixture come to a simmer. Continue simmering, stirring frequently, and reducing heat as necessary to avoid a rapid boil, until the potatoes are completely tender and cooked through (about 5 to 8 minutes).
4) Carefully pour the mixture into a blender, but keep the pot handy for later. Add the nutritional yeast, sun-dried tomatoes, hot sauce, and vinegar. Blend until the mixture is completely smooth, about 2 minutes, stopping to scrape down the sides if necessary. If the mixture won't blend easily or if you would prefer a thinner consistency, add water in ¼ cup increments, blending after each one.
5) Taste, and blend in additional salt until the queso is utterly irresistible (I typically add about ½ teaspoon more). Pour the mixture back into the pot and add the tomatoes or salsa and jalapeños, if using. Cook over medium heat, stirring until the mixture is very warm.
6) To serve it as a dip, transfer to a serving bowl and top with any garnishes you'd like. Or to make nachos, drizzle it generously over a bed of tortilla chips and garnish as desired. Serve immediately. Leftovers taste even better the next day! Store cooled leftover queso in a bowl, covered, in the refrigerator for up to 5 days. Gently reheat on the stove or in the microwave, stirring frequently, until warmed throughout.
For an easy serving hack, check out our Dip Holder!
https://info.jokari.com/wp-content/uploads/2020/06/Jokari-Nacho-Dipping-Sauce-Recipes-2.jpg
662
1000
Lauren Johnson
https://info.jokari.com/wp-content/uploads/2022/05/jokari_logo.webp
Lauren Johnson
2020-06-19 09:00:59
2022-04-13 15:47:51
Nacho Dipping Sauce Recipes