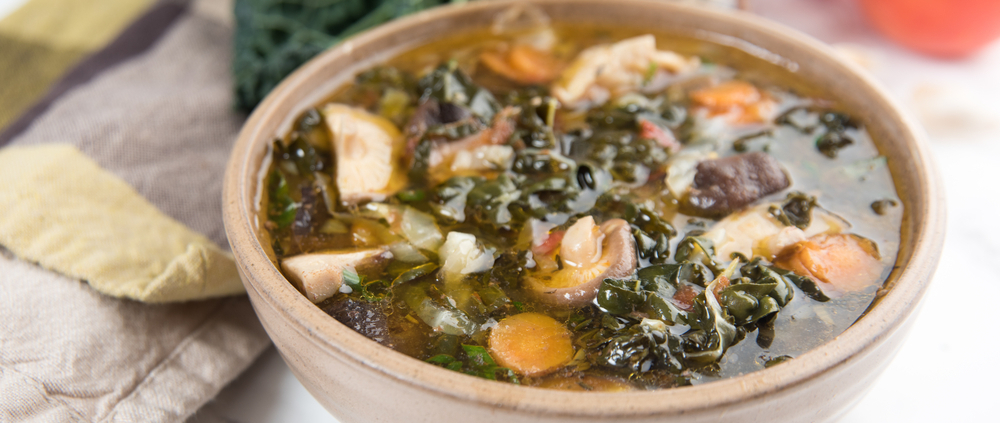 It's more important than ever to make sure people are staying healthy and taking care of their immune systems. And this can come in many forms. It can involve a weekly exercise regiment, meditation to help lower stress levels, a or more structured sleep schedule. And, just as crucially, it can involve adjusting diets to include more immune-boosting foods. Here are a few simple soup recipes jam-packed with superfoods guaranteed to have your body thanking you:
Ultimate Immune-Boosting Soup
[Source: The Healthy Maven]
This soup is packed with immune-boosting goodies, including mushrooms, coconut oil, garlic, turmeric, bok choy, and kale. Mushrooms contain Ergothioneine, a powerful antioxidant that helps to eliminate free radicals, as well as Vitamin D. Coconut oil contains lauric acid and caprylic acid, which are antiviral compounds that can help ward off bacteria and infections. Garlic can help boost virus-fighting T-cells in your bloodstream while turmeric and kale also contain powerful antioxidants. Kale is also an excellent source of iron and vitamins, similar to bok choy which is a high source of vitamin A and vitamin C. Put it all together and you've got a recipe that can keep your immune system working at 100%.
INGREDIENTS
1 T coconut oil
1 large yellow onion, chopped
6 garlic cloves, minced
2 celery stalks, sliced
1 lb shitake mushrooms
1 1/2 tsp sea salt
1/4 tsp black pepper
1 tsp turmeric
12 cups water
4 heads baby bok choy, bottoms chopped off
1/2 head kale, chopped
optional: 1 tablespoon freshly grated ginger
INSTRUCTIONS
1) Chop off the bottom of the stem from your mushrooms and discard. Separate stems from tops and slice tops and remaining stem if necessary, into large pieces. You will only discard the very bottom of the stems, not the full stems as they contain many nutritional benefits!
2) Heat up coconut oil in a large pot over medium heat.
3) Add onions and sauté for 5 minutes or until translucent.
4) Add in garlic and cook for 1 more minute.
5) Add in celery and mushrooms and saute for about 10 minutes or until mushrooms have wilted.
6) Add in spices (including ginger, if using) and water and bring to a boil
.
7) Then let simmer, covered for 1 hour or as long as you want
8) Add bok choy and kale in the last 10 minutes of cooking to wilt.
9) Serve warm or store for up to 1 week in the refrigerator.
Feel Better Pho
[Source: The Kitchen Girl]
Again we have some great immune system boosting foods like mushrooms, but this time the soup has a bit of a spicy kick to help knock out some stuffiness if you're stuck at home with a cold or allergies. And, the best part, this is a fifteen-minute recipe so it won't take a lot of time or effort to make (which is exactly what you what when you're under the weather, right?).
INGREDIENTS
White or brown rice noodles
Oil
Green onions
Mushrooms (chopped)
Vegetable broth
Cilantro or basil, lime, sliced jalapeño, peanuts (garnish)
[A meat of your choice or you can keep it vegan]
INSTRUCTIONS
1) Chop and sauté veggies (mushrooms, cabbage, onions, celery, garlic, ginger)
2) Add water and simmer 20 minutes
3) Strain the broth.
4) Remove the veggies (optional)
5) Pour over cooked noodles
To eat these comforting recipes more comfortably, check out our Bowl Holder. It will keep your hands safe while you're handling these hot and yummy soup bowls!
https://info.jokari.com/wp-content/uploads/2020/04/Jokari-Immune-Boosting-Soups-1-1.jpg
667
1000
Lauren Johnson
https://info.jokari.com/wp-content/uploads/2022/05/jokari_logo.webp
Lauren Johnson
2020-04-22 15:07:58
2020-04-22 15:07:58
Best Soups for Boosting Your Immune System