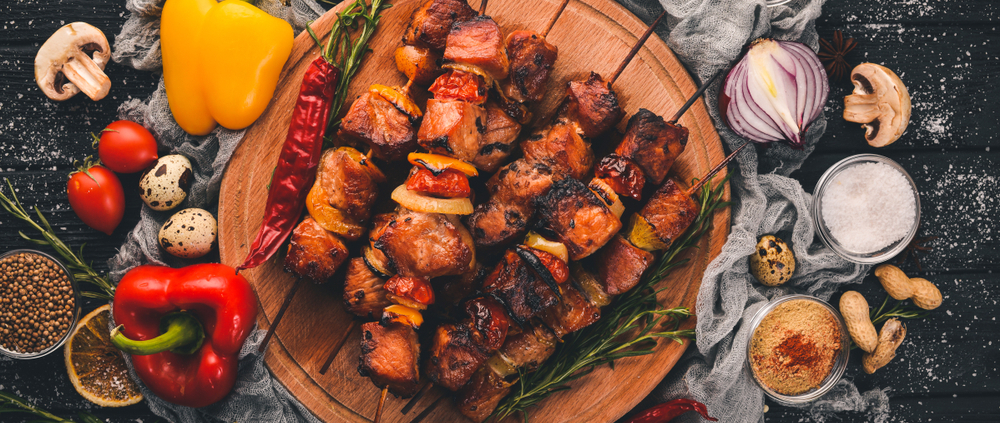 There's still time to fire up the grill before summer comes to an end…and what better way to warm things up than with some delicious kebabs? Use some of our Jokari skewers and follow these recipes for the yummiest treats on a stick this side of ice pops!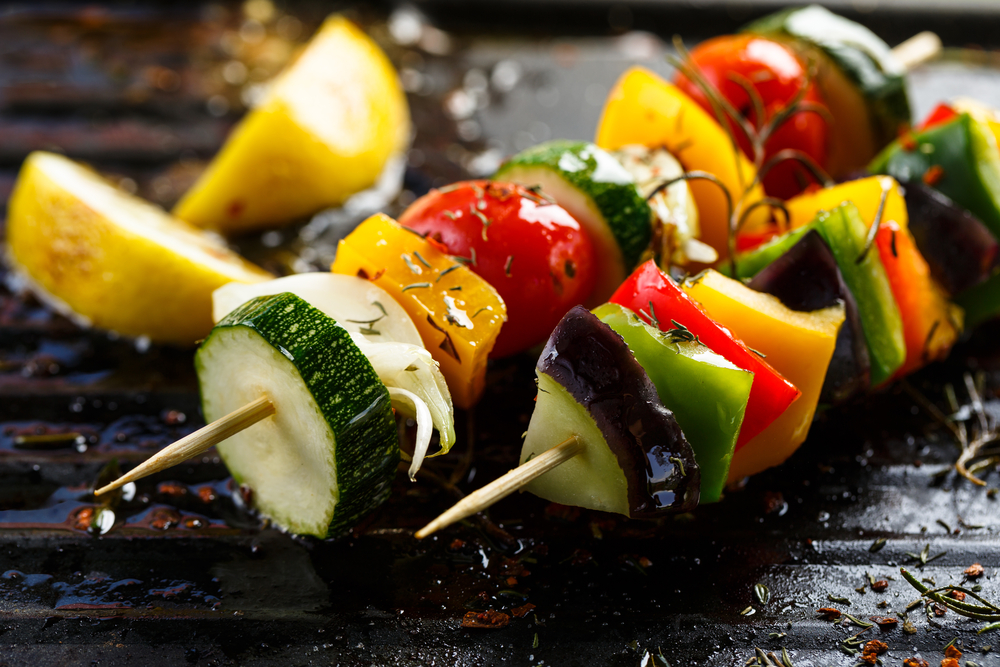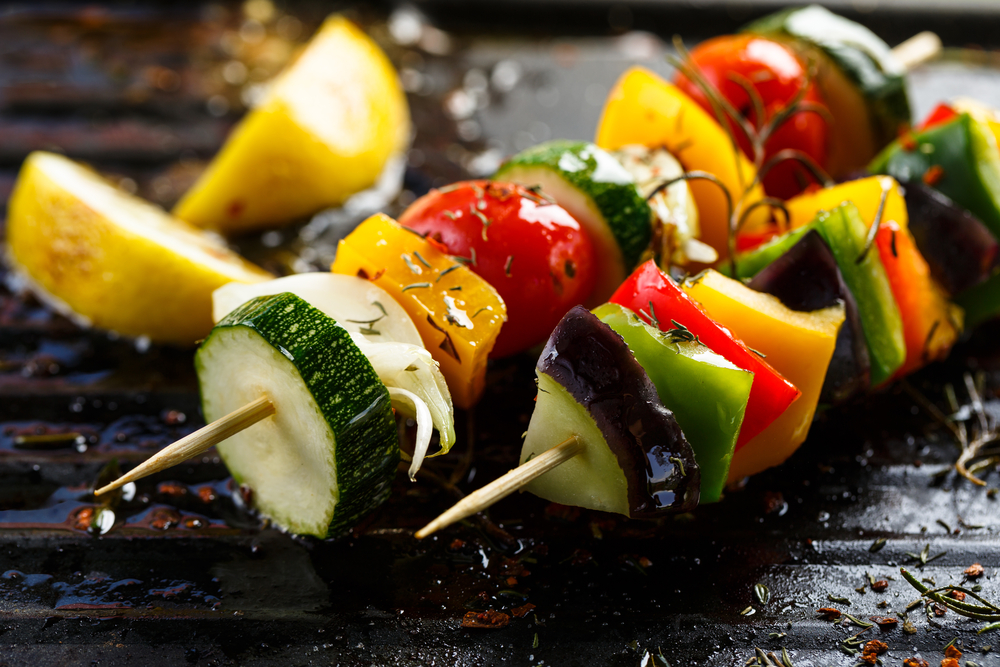 VEGETABLE KEBABS WITH MARINADE (Source: Damn Delicious)
Ingredients:
2 cups cremini mushrooms
1 cup cherry tomatoes
1 red bell pepper, cut into chunks
1 green bell pepper, cut into chunks
1 red onion, cut into chunks
1 zucchini, sliced into thick rounds
1 yellow zucchini, sliced into thick rounds
For the marinade
-1/4 cup olive oil
-3 cloves garlic, pressed
-Juice of 1 lemon
-1/2 teaspoon dried oregano
-1/2 teaspoon dried basil
-Kosher salt and freshly ground black pepper, to taste
Directions:
Fire up your grill.
In a small bowl, whisk together olive oil, garlic, lemon juice, oregano and basil; season with salt and pepper, to taste.
Thread mushrooms, tomatoes, bell peppers, onion and zucchini onto skewers. Place skewers onto a baking sheet. Brush olive oil mixture onto the skewers and let sit for 10-15 minutes.
Grill over medium high heat, 5-6 minutes per side.
Serve immediately.
HONEY CHICKEN KEBABS (Source: Allrecipes)
Ingredients
-1/4 cup vegetable oil
-1/3 cup honey
-1/3 cup soy sauce
-1/4 teaspoon ground black pepper
-8 skinless, boneless chicken breast halves – cut into 1 inch cubes
-2 cloves garlic
-5 small onions, cut into 2 inch pieces
-2 red bell peppers, cut into 2 inch pieces
Directions
In a large bowl, whisk together oil, honey, soy sauce, and pepper. Before adding chicken, reserve a small amount of marinade to brush onto kabobs while cooking. Place the chicken, garlic, onions and peppers in the bowl, and marinate in the refrigerator at least 2 hours (the longer the better).
Preheat the grill for high heat.
Drain marinade from the chicken and vegetables, and discard marinade. Thread chicken and vegetables alternately onto the skewers.
Lightly oil the grill grate. Place the skewers on the grill. Cook for 12 to 15 minutes, until chicken juices run clear. Turn and brush with reserved marinade frequently.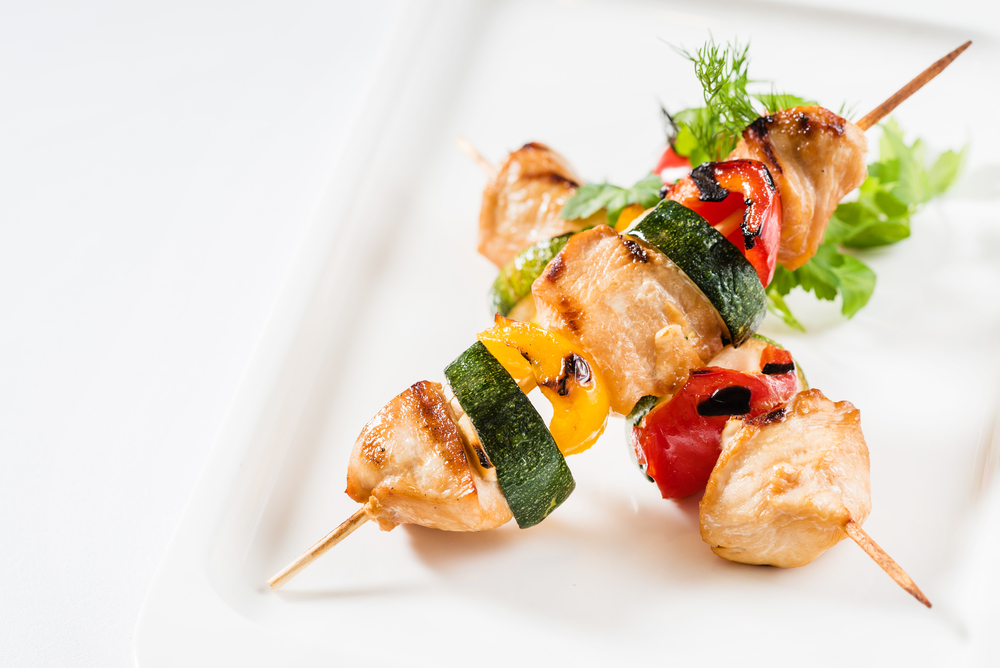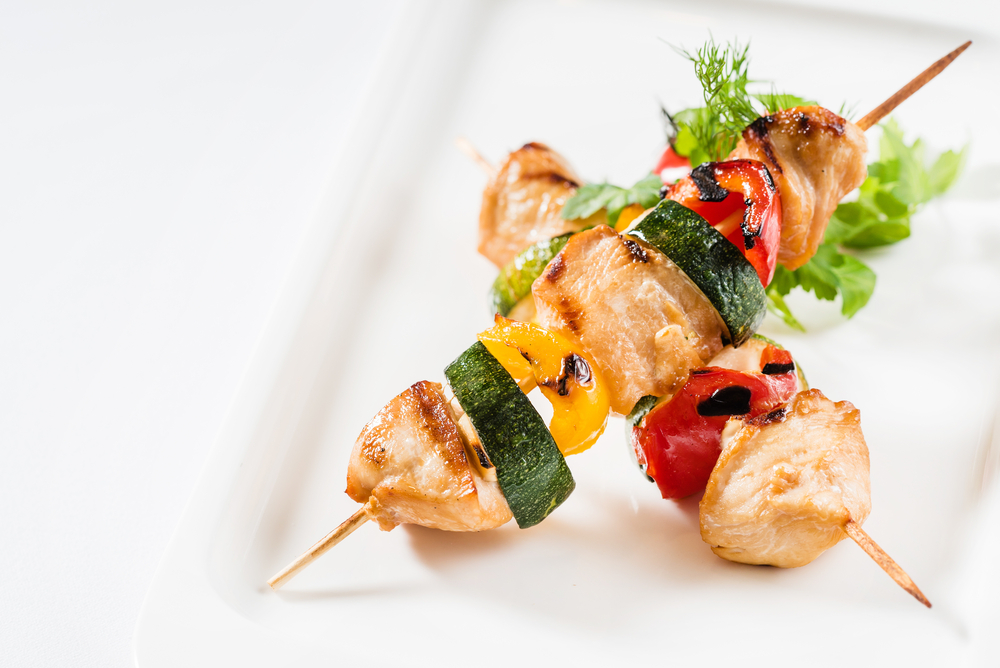 SPICY BEEF KEBABS (Source: Alton Brown)
Ingredients:
-1 ½ to 2 pounds boneless beef sirloin
-3 cloves garlic, minced
-2 teaspoons smoked paprika
-½ teaspoon ground turmeric
-1 teaspoon ground cumin
-1 teaspoon kosher salt
-½ teaspoon ground black pepper
-1/3 cup red wine vinegar
-½ cup olive oil
Directions:
Cut the beef into 1 1/2 to 1 3/4-inch cubes and place into a large mixing bowl. Set aside.
In the bowl of a food processor combine the garlic, paprika, turmeric, cumin, salt, pepper and red wine vinegar. With the processor running drizzle in the olive oil.
Pour the marinade over the meat and toss to coat. Place in the refrigerator in an airtight container or a sealable plastic bag and allow to marinate for 2 to 4 hours.
Preheat the grill to medium-high heat. Thread the meat onto the skewers leaving about 1/2-inch in between the pieces of meat. Place on the grill and cook, with lid lowered, 2 to 3 minutes per side, 8 to 12 minutes in all (8 minutes for rare and 12 for medium). Remove from the heat to aluminum foil, wrap and allow to rest for 2 to 3 minutes prior to serving.
APRICOT ORANGE SEAFOOD KEBABS (Source: My Life Cookbook)
Ingredients
12 oz fresh tuna cut into chunks
12 oz fresh salmon cut into chunks
16 large raw shrimp, peeled
1/4 cup soy sauce
2 tablespoon orange juice
1/4 cup apricot jam
2 tablespoons oil
2 cloves garlic crushed
Instructions
1. Add the apricot jam to a bowl and microwave for 30 seconds to liquify.
2. To that add the soy, orange juice, garlic and oil. Whisk to combine and make the marinade.
3. Add all the seafood to a large plastic bag and pour marinade over.
4. Seal bag and refrigerate for 30 minutes.
5. Take the seafood out of the bag and add to skewers.
6. Grill for 5-8 minutes or until done.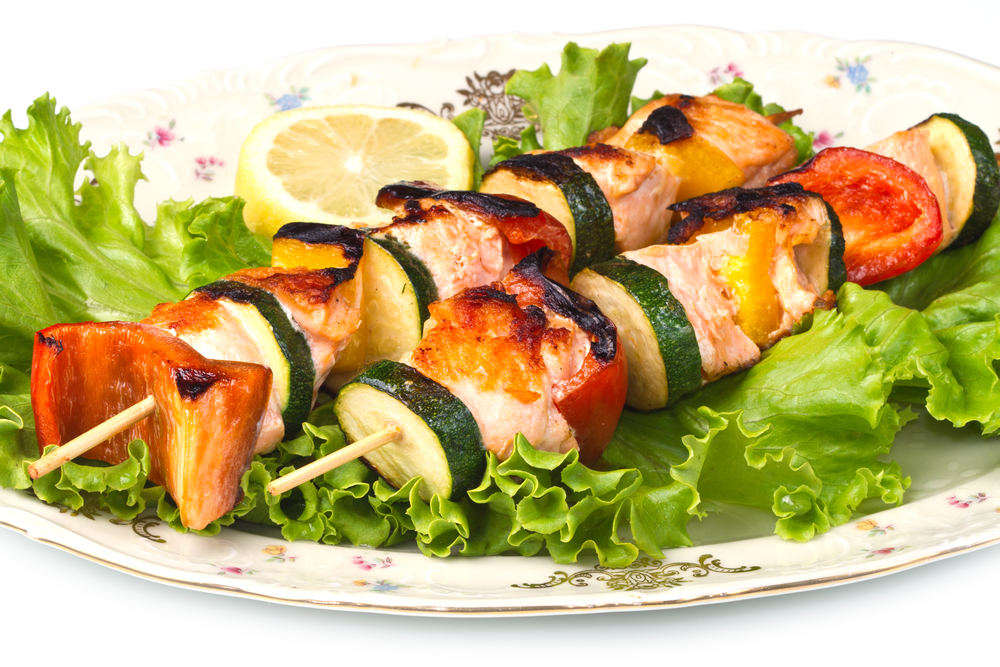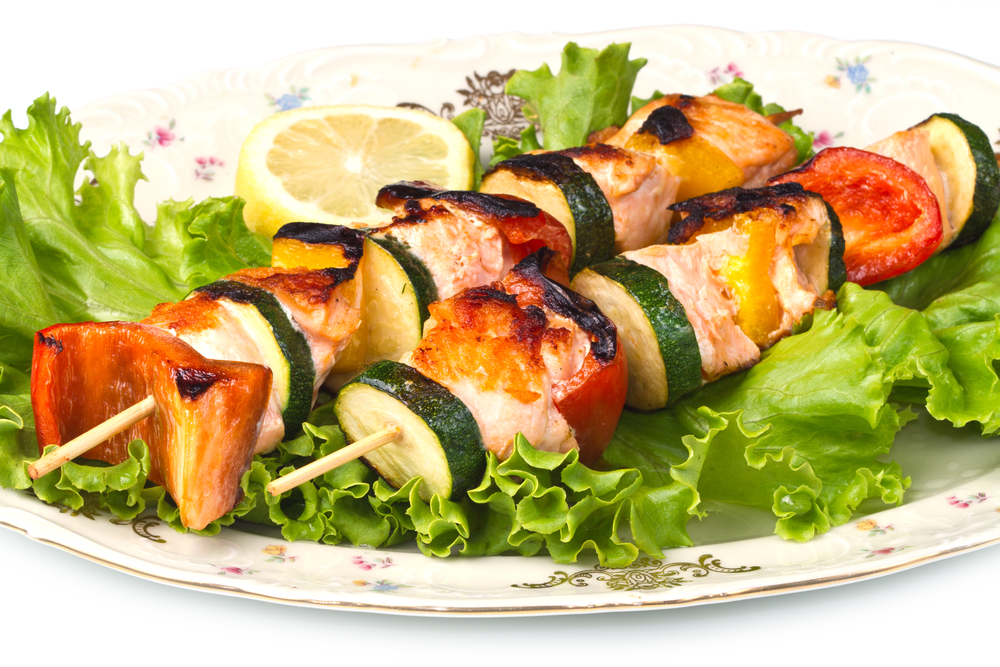 https://info.jokari.com/wp-content/uploads/2018/08/summer-kebab-4.jpg
667
1000
Lauren Johnson
https://info.jokari.com/wp-content/uploads/2022/05/jokari_logo.webp
Lauren Johnson
2018-08-03 12:52:03
2018-12-12 15:43:27
Summer Kebabs