As we get further into 2019, we reflect on the previous year's happenings – the highs, the lows, the successes – and hone in on things we want to do better in the New Year. How can we Make Life Better?
When you look back at 2018, many of us tried to Make Life Better each day, at least in a tasty and healthy way, as food culture and healthy living propelled the kitchenware category. In a HomeWorld Business magazine article, Senior Editor Lauren De Bellis outlined the highlights of previous years:
"Foodie culture propelled the kitchenware category into the spotlight this year. Between the increased sophistication of tastes, a continued interest in at-home meal prep, as well as a renewed confidence in their cooking skills, consumers actively turned to the kitchenware category for innovative tools and gadgets," said De Bellis.
These are themes we expect to continue in following years. After all, now that we've all developed a sophisticated palate keen on the tastes of healthy and delicious foods we might never have thought to try, why not continue with goals that not only make us healthy, but happy?
Whether you began this positive journey this year or are ready to jumpstart a happier, healthier life next year, follow these tips on how to cook and eat better this New Year!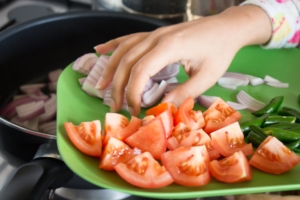 Meal prep.
The whole point of "meal prep" or meal preparation is to make life easier, and ultimately better, for you during the week. We all lead busy lives and sometimes that busy gets the best of us. This leads us to make unhealthy choices when it comes to our meals.
While the new year may be here fast and furious, take a moment to slow down in the kitchen. Take some time to plan before you begin your actual prep as this will make the process simpler and smoother and save frustration in the kitchen (nobody wants that ingredient in the mix!).
While it'd be great to meal prep for seven days of the week right away, don't feel you have to jump right into the process. As fitness expert Kayla Itsines said, "If you are just starting out with meal prep, don't overwhelm yourself! Cooking up a whole week's worth of meals is a big task and even the best of us can struggle with that. My biggest tip is to ensure that it is manageable. I recommend sticking to a few days at a time to help you get used to the process."
Allow yourself a little help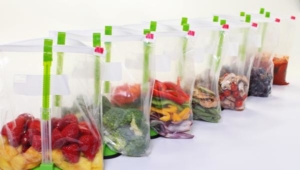 Asking for help is important for a lot of things in life, healthy cooking and meal prep is no exception.
You're only one person. You only have two hands. It may seem obvious, but we understand the conflicted struggle we all sometimes feel about it because we want to tackle everything ourselves! Even if you're going to be that independent go-getter, go at it in a way that makes it easy and efficient for you. Our Baggy Rack provides a hands-free way to fill baggies with all of your ingredients or freezer meals. Also, Erasable Food Labels are good tricks of the trade when it comes to meal prep.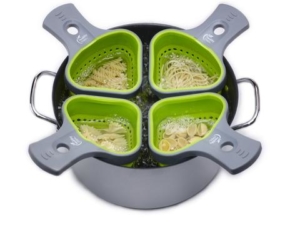 Get in check with proper portions.
We developed our Healthy Steps Collection to provide the tools of the trade when it comes to healthy eating. So many of us struggle with proper portions. We get that! That's why we created each item in this collection to easily measure single servings.
Coolest Gadgets recently highlighted our Healthy Steps Pasta Basket as a way to "keep your pasta cravings in check." Each basket helps you measure a single serving of any type of pasta. Fit up to four baskets in one pot; this even allows you to cook everyone's favorite pasta at the same time! Time-saving and possibly life-changing.
What are your goals for next year? Share it with us by using the hashtag #MakeLifeBetter!
https://info.jokari.com/wp-content/uploads/2018/11/pexels-photo-1351238.jpg
1253
1880
Madie Weiser
https://info.jokari.com/wp-content/uploads/2022/05/jokari_logo.webp
Madie Weiser
2019-01-11 10:00:38
2019-01-02 13:16:51
How to Cook & Eat Better in 2019