If you're having a bad day or feeling just a little under the weather, a soothing cup of tea could just be what the doctor ordered. No, literally: certain varieties of herbal tea contain plenty of health and medicinal benefits. These ten are our favorites.  Sometimes all you need is a hot cup of tea, a blanket, and a Netflix binge to help you feel better.
PEPPERMINT 
Supports digestive health
Fights off cramps
Ends stomach pain
Possible antibacterial and antiviral properties (not tested in humans)
HIBISCUS
Effective against high blood pressure
Fights oxidative stress
Note: hibiscus tea shouldn't be consumed when taking aspirin or hydrochlorothiazide due to interactions.
SAGE
Improves mood
Improves blood lipid levels
Improves cognitive functions and memory
May protect against colon cancer
ROSE HIP
High in vitamin C
Effective at reducing inflammation
Good for weight management
Rich in antioxidants
Reduces stomach fat over a prolonged period
Fights aging skin
CHAMOMILE
Excellent sleeping aid
Antibacterial effects
Fights diarrhea and stomach ulcers
May relieve premenstrual symptoms
Could improve insulin levels
ROOIBOS
May benefit bone health
Lowers cell toxicity
Prevents heart disease
Lowers cholesterol
LEMON BALM
Improve elasticity of the arteries
Increase in natural enzymes in the body
Improves mood
Reduces stress
Reduce anxiety
PASSIONFLOWER
Relieves anxiety
Improves sleep quality
Promotes calmness
GINGER
Remedy for nausea
Prevents stomach ulcers
Reduces inflammation
May help with diabetes
ECHINACEA
Boosts immune system
May shorten the duration of the common cold
Soothes sore throats
Clears stuffy noses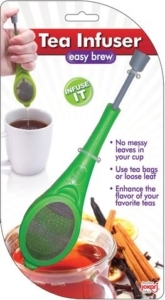 Remember to use our Jokari Tea Infuser for best results. It can hold bagged or loose leaf teas and the built-in plunger lets you press your tea for a more intense flavor, without the mess.
https://info.jokari.com/wp-content/uploads/2018/11/pexels-photo-405238.jpg
1253
1880
Madie Weiser
https://info.jokari.com/wp-content/uploads/2022/05/jokari_logo.webp
Madie Weiser
2019-01-18 10:00:08
2019-01-17 16:50:19
Healthy and Helpful Teas