Another sign that 2019 is officially off and running? Most of us begin taking down our their holiday decorations and packing them away for another Christmas to come (except that ONE neighbor. You know the one. Christmas 'till July….) With National Take Down the Christmas Tree Day just around the corner on Sunday, January 6, we wanted to take you behind the innovation of a particular storage and organization item related to this holiday. The  Tree Storage Bag within our Paula Deen Holiday Collection was created o help (festively) Make Life Better.
Begin with a concept sketch
Every product starts with a problem, followed by a solution. The big question we always ask is, "How can we Make Life Better?" After sketching out several concepts, it's an amazing feeling for our team when we reach that "Aha!" moment. We analyze a design sketch and come to the conclusion that, "That's it! This is the solution to the problem." Check out one of the design sketches for our Tree Storage Bag!
Think about the features and benefits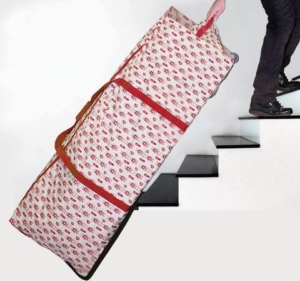 A new innovation doesn't hold the power to Make Life Better unless it has various features and benefits that not only make it unique but also make it useful. In designing the Tree Storage Bag, as with any new item, we went back to the basics. What were the problems we were trying to solve?
Bulky Christmas trees are often difficult to fit back in the same boxes they came from the store in. Plus, over time, those cardboard boxes simply don't stand a chance…they will inevitably start to deteriorate. A sturdy bag of cloth fabric construction would help solve that problem.
So, now we have a sturdy tree bag, but how can we make it easy for end-of-Christmas elves to carry and store it away for another joyful holiday season? By incorporating carry handles and a drag handle, this provided two easy carry options. A sled plate with glide wheels makes the bag easy to pull (much like a wheeled suitcase), even up the stairs.
Adding a personal touch.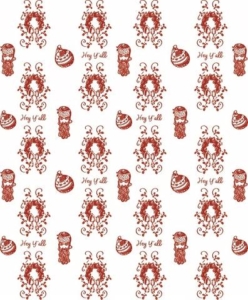 With the Tree Storage Bag as part of our Paula Deen Holiday Collection, we wanted to work with our friend and celebrity Paula Deen to add her own personal touch to add to the design aesthetic. The holidays are about celebrating and enjoying time with friends and family, so the red and white toile fabric was designed to pull in that aspect.
"The pattern was inspired by my family's decorations from years past," said Paula Deen. "I hope you love it as much as I do!" From a Christmas wreath to sketches of ornaments that hung on Paula's very own family tree, to her signature "Hey, Y'all," the toile fabric used throughout the holiday collection is a perfect reflection of Paula and her signature style.
Goodbye holidays. Hello New Year!
When do you take down your Christmas tree? Let us know if you could use a little bit of this kind of innovation in your life by using the hashtag #MakeLifeBetter! Best wishes for a Happy New Year. 2019 is your year to Make Life Better.
https://info.jokari.com/wp-content/uploads/2018/11/pexels-photo-185400.jpg
1253
1880
Madie Weiser
https://info.jokari.com/wp-content/uploads/2022/05/jokari_logo.webp
Madie Weiser
2019-01-04 10:00:36
2019-01-17 16:44:37
Going Behind the Innovation on National Take Down the Christmas Tree Day