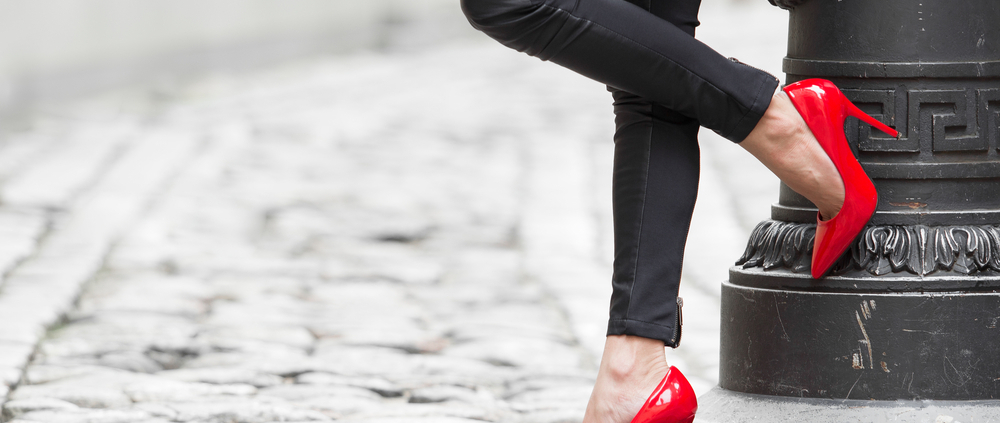 In the days of old, jeans were the preferred style of casual pants. Way back then, women would have to go to department stores and force their uniquely proportioned bodies into a constricting body cast we called denim. The creators of this 'denim' substance didn't quite understand the proportions of the female form so, for decades, women would have to settle for pants that fit them in the waist but not the hips (or vice versa). There were even times where women had to send their newly purchased jeans to a [insert dramatic music here] tailor. Luckily, those horrible days are behind us thanks to the now popular leggings industry. Though this incredibly comfy and freeing article of clothing has only truly popularized within the past two decades, you may be surprised to know that it has a long history in popular culture.
The 14th Century
Though we have a clear idea as far as where the trend of modern leggings began to develop, our history on where leggings originated is rather mysterious. However, according to Who What Wear, the first known appearance of leggings was on men in 14th century Scotland. Surprised? In fact, leggings were considered a predominantly male trend up until the 19th century.
Originally, these men wore two separate, hip-high, boot-like creations made with either chainmail or leather. The look was created to work for both casual and military attire. However, over time, they evolved into thicker garments (more like tights) and were worn under cotehardies during the Renaissance.
The 1950s
The '50s was when the trend of modern leggings as we know them officially began. The beginning of the trend can be traced back to one of the world's most well-known fashion icons: Audrey Hepburn. She donned a pair of slim, waist-defining cropped black pants for her 1954 film Sabrina, causing many women to follow suit. Style icon Sophia Loren was photographed dancing in a pair of black leggings in 1955. Hepburn wore a pair of leggings for another film during this decade, Funny Face.
This decade also saw one of the biggest inventions in the history of the leggings industry: spandex. That's right, Lyrca (AKA spandex) was invented by chemist Joseph Shivers in 1958. The first pair of Lycra leggings became available in 1959, leading right into the next decade of leggings trends.
The 1960s
As one could predict, the invention of spandex caused the fashion industry to embrace slim, stretchier pants throughout this decade. They were even paired with mod shift dresses by fashion designers like Emilio Pucci and Mary Quant. In addition, they continued to be worn by famous celebrities such as Debbie Reynolds and Ann Margret.
The 1970s
This was the decade where the leggings craze really took the world by storm. Can you guess how? We'll give you a hint… We go together like rama lama lama ka dinginty dinga dong. That's right, when the major box office hit Grease featured the gorgeous Olivia Newton-John in her now famous shiny nylon leggings, the world exploded. In addition to Olivia Newton John's iconic statement outfit, this decade also saw leggings featured in TV shows like the popular Charlie's Angels and on celebrities like Debbie Harry. The leggings trend of the '70s also included shiny high-waisted (and often colorful) disco pants.
The 1980s
This is the decade most commonly associated with the leggings trend, with the advent of workout leggings. These were popularized by the now iconic film Flashdance when worn by Alex Owens (played by Jennifer Beals). Jane Fonda put this style into real-life practice with her famous workouts, officially ushering in the style of high-shine, nylon-blended leggings in neon colors. Madonna was also responsible for contributing to this 80's trend as leggings became one of the staples of her wardrobe. She featured leggings in some of her music videos and wore them frequently under black micro skirts when she performed on stage.
The 1990s
The leggings trend took a bit of a dip in the '90s as baggier pants became the latest trend. The only real popular culture references to leggings of note would be the Cindy Crawford Life magazine shoot where she donned an all-black ensemble complete with a pair of leggings. In addition, jersey-knit versions of the clothing piece popped up every once in a while on the hit show Saved By The Bell.

2000s-Present Day
In the early 2000s, leggings began to pop back up among celeb styles. We'd often see celebrities like Lindsay Lohan, Nicole Richie, and Paris Hilton sporting a Capri version beneath dresses, skirts, and long sheer tops. Today, the unit sales of leggings and yoga pants surpass the sales for denim jeans in the U.S., UK, and Australia. Celebrities like Gigi Hadid, Hailey Baldwin, Bella Hadid, and many more support popular athleisure brands. At this point, leggings have essentially turned into the new pants for many. And, given their unique combo of comfort and style, we're not complaining.
Curious what kind of leggings best match your personality? Take our fun quiz!
https://info.jokari.com/wp-content/uploads/2019/04/Jokari-Leggings-in-Popular-Culture-8.jpg
729
1000
Lauren Johnson
https://info.jokari.com/wp-content/uploads/2022/05/jokari_logo.webp
Lauren Johnson
2019-05-31 10:00:47
2019-05-09 15:15:45
Leggings in Popular Culture